Greenhouse partners with All Speed Innovations for Oregon Trail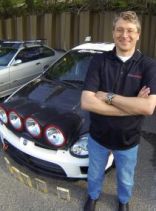 Photo by Elliott Sherwood
5-time RallyAmerica regional champion Chris Greenhouse will be partnered with All Speed Innovations of Lebanon, Ohio, USA for the third round of the RallyAmerica National Championship series at Oregon Trail Rally 2013.
"I am very pleased to announce our partnership with All Speed Innovations," said Chris before the event. "This is a new facility, but with some very experienced and familiar faces who will be handling our car preparation at Oregon Trail Rally this year. Gary Cupp is the owner of All Speed, and he has a wealth of knowledge of preparing street cars, track cars, time attack cars, and most importantly, rally cars! I couldn't be more fortunate to have him managing our team."
All Speed Innovations provides engine, suspension, tuning and a host of other services to all makes, with particular focus on rally and track competition vehicles
Gary commented on the partnership with driver Chris Greenhouse. "Chris has proven that he can win, there's no question. With 24 regional class wins to his credit and 3 National victories at Sno*Drift 2009, STPR 2009, and STPR 2011, we are ecstatic to have a top-level driver in RallyAmerica's 2WD series and we will be looking to enjoy some champagne this weekend."
Oregon Trail Rally will begin in Portland, Oregon on May 3, 2013 and will include 3 days of racing out of Portland International Raceway, Hood River and Dufur, Oregon.
Chris would like to thank All Speed Innovations and also Maddog STS, O'Reilly Auto Parts, Angry Sheep Motorsports, Silco Fire Protection, and JayRacing.com for their continued support.