As the title suggests, I've got this really annoying whistle which can be heard in the video posted: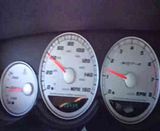 Apologies for the music
It all started when I first installed my BOV. It started off as a constant whistle at idle, but eventually wore down to where now I only hear it once the engine has warmed up and I WOT or transmission brake. My buddies and I heard it coming from the back of the engine near the turbo, so I assumed it was the block off plate. Since then, I've tried 3 different gasket materials and several different sealants. Unfortunately, none resolved the whistle. Another friend of mine was taking a look at my engine bay when he claimed it sounded like it was coming from the BOV. He found that my vacuum line coming from the charge pipe had been chewed through by a damn animal, so I fixed the leak, but still hear the whistle. I'm really just curious if anyone has had a similar issue.. I assumed it was related to the induction system since it all started after the bov install, but what would cause it to whistle when I begin to tranny brake? Maybe the vacuum making the same whistle as the boost pressurizing the leak?
Halp pl0x.