Atleast you guys are still around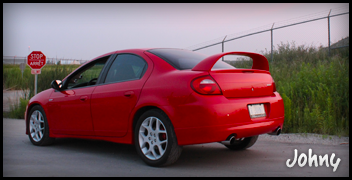 www.JohnyR.net
- Web development
---
2GN Member
Posts: 609
Joined: Wed Feb 11, 2009 2:53 pm
Location: Tulare,Ca
I hate to say but I need to join. I got a 13yr old that weighs 20lbs less than me and a lil one in a booster seat that is about to grow out of it, plus my daughter. I traded it in for a full size four door truck. I NEED the room and can make use of having a truck.
I will agree that the couple of years that I've been on here have been very entertaining. Made alot of friends.
So what number am I??
NorCal Homeboy

---
---
2GN Veteran
Posts: 9938
Joined: Mon Jan 02, 2006 11:17 pm
Location: Chicagoland
So I am back in a MOPAR at least with my '11 Avenger.
Danteneon wrote:You doing this swap with your tech level is like asking a squirrel to land a 747.
---
J-Villa wrote:Pt cruiser is now gone! First time owning a non mopar vehicle.... lol
it's ok I forgive you porches are ok in my book. too bad your maintence costs are gonna be through the roof tho.

2002 Neon SXT Sold
2006 EVO MR Weekend Warrior
2003 SRT 4 DD
-Kevin
---
I've sold 5 neons, but I've owned one of them twice, what's that make me?
So many neons so little time.
---
---
2GN Member
Posts: 355
Joined: Mon Jun 08, 2009 6:22 pm
Location: Green Bay, WI
im in i traded mine in for a 05 300 touring...
Ridez 2005 Chrysler 300 Touring, 2007 Chrysler Pacifica
---
same here traded mine in for a 2010 g6
2004 white dodge neon 2.4 DOHC swapped
2004 red dodge neon srt-4 gone
2000 flat black plymouth neon 2.0 DOHC swapped gone
2002 silver dodge neon parts car R.I.P
2000 green dodge neon parts car R.I.P
---