So I have installed EBC Yellowstuff brake pads front and rear about a week ago along with new rotors. They have about 250 miles of easy driving on them till this morning when I 'burned them in'. I needed new brakes and I was curious about these brakes, I really haven't read about anyone here running these so what the hell , I'll try them out, what could happen?
The fronts came with EBC's proprietary 'brake in coating' and shims, the rears didn't have this coating or shims. The literature that came in each box of pads was a little different. In the box with the the rears pads, one of the bits of paper in there said 'not for highway use'. We shall see.
How do they feel so far? Well at first they seemed a little more grippy than the stock pads, this can be attributed to the brake in coating according to the instructions. By grippy I mean that for the amount of pedal pressure I was applying, the car was slowing down as if I was pushing the pedal harder. They work fine when cold so far, about like the original pads, and they weren't bad. Usually these types of pads need some heat for best results. This morning after a little more than 200 miles of easy braking I did the recommended bedding in procedure.
The bedding procedure calls for hard braking 60-20 mph 5 times in a row without letting the brakes cool. I did this and I noticed that on about the fourth stomp of the brakes they seemed to grip even harder, you don't want to activate the ABS, but it feels like I could with lot less pedal pressure than before. The pedal feels harder and very slightly higher than before. Not bad. It was dark out but I'm sure I smoked them a little because I caught that smell. After the bedding in I continued on my way to work letting the brakes cool. When I got to work I looked at the rotors to see if I could see the supposed coating of materiel that transfers to the rotor from the pads. I don't know, the rotors look the same to me except for a slight color change from the heating they got this morning. There's a slight blue tinge on the outer edge of the front rotors now, the rears, not much difference.
Here's what I'm expecting as the mileage builds: Brake dust. The trip to work and back this morning, including the burn in, and there was a not really noticeable layer of dust on the front wheels, wipe the wheels with a damp rag and yes, you definitely get more dust than the original pads.
Rotor wear: EBC says these are track pads that can be used on the street. Track pads I've seen usually are tough on rotors. If I didn't get that coating of brake material to transfer during bed in I'm not sure how the rotors will last, I hope I did this ok, the only pads I've ever used are what you can get in your local auto parts store.
Noise: These aren't really meant to be pads for a grocery getter IMO, as such I won't be surprised if I get some squealing. So far though they're a silent as stock.
What's next: I had wanted to rebuild the calipers and flush the brakes but when I went to pick up the rotors, caliper seal kits, caliper hardware, brake grease, brakeclean etc, the counter guy said they don't sell kits because everyone just installs loaded calipers now a days and the kits cost as much as rebuilt calipers. What horseshit, they want $40 a caliper with the core. I ordered this stuff online before I went pick them up, and the kits, which they showed as in stock, were like $4 each. Why pay $40 a caliper when you can rebuild all 4 calipers yourself in about an hour? The only time I'd consider one of these rebuilts are if mine were badly corroded. I'm waiting on a new Motive pressure bleeder that I snagged on E bay for $11.
When it shows up I'll flush the system, I think I'll pass on the caliper rebuilds for now since I don't have the kits and I'm lazy..
As the brakes get more mileage, I'll report anything that happens with them here. BTW, the rotors I got were were Raybestos brand the next step up from the cheapest. They're supposed to have a smoother finish than the cheapies and better cooling vanes or something. The fronts were made in Canada and the rears in China. I don't think those slotted and drilled rotors that you see are any better than the regular type and they cost more. More for show than anything IMO.
The front, EBC DP41623R: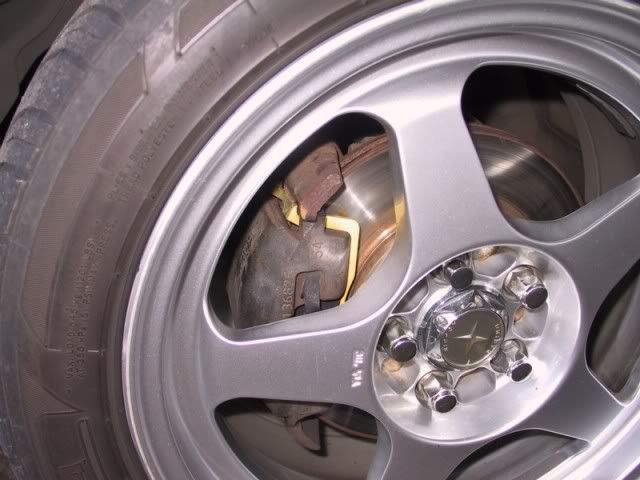 The rear, EBC DP41066R: