I recently bought a custom bezel from Brian Casey (from the SRT4 Parts For Sale page). I chose to pay a little more and buy it from him because he was posting pictures of his work and it looked awesome! On November 15, 2012 I sent him the money for the work and I mailed him my bezel, lower cubby, defrost button, traction button, and power outlet. We had agreed on $175 for a double din mount, two gauge pods in the pass vent, and my buttons relocated to the lower cubby piece. He also offered to throw in a relay so I could bypass the parking brake ground. It cost me $25 to ship all my stuff out to him.
On Wednesday, December 5th, 2012 he told me "It should be done by the weekend." I received a message and picture of a completed bezel on Thursday, December 13, 2012. He said "I've got bezel done. Hope to have cubby piece done tomorrow. Sorry, I'm running a little behind." I told him it was no problem, just to let me know when it was completed and shipped.
I asked for an update on December 22, 2012 since he hadn't told me anything in over a week. He told me it would take another week to finish the lower cubby piece. On the 27th he let me know he was about to start working on it again. Tuesday, January 1st, 2013 he messaged me saying it would be finished and shipped by the coming Friday. Saturday, January 5th I asked if there were any problems. He told me he was sick and didn't do anything. At this point I was starting to get really pissed off. I understand shit happens, but this is becoming too much. Unless it's a serious sickness, I don't see a reason not to work, especially on overdue stuff. Personally, I have NEVER taken a sick day, and I work roughly 60-80 hours a week.
Thursday, January 17, 2013 I asked if there was a chance it could be shipped out for the following day. He had an emergency with his son apparently and had not completed the lower cubby piece. Once again, on the 23rd I asked if it could be shipped for the following day (friday), I was told "I hope so." The next day he sent me a pic of the cubby in the process of being finished and said that he would ship it out priority as soon as it was done.
Finally, the lower cubby was done. He sent me a picture on January 27th showing the completed work. It was shipped to me on January 30th. I received it on February 9th, 2013. When I got it there were a few issues.
1. He had forgotten my defrost button, and the relay
2. There were cracks all over the bezel and cubby piece
3. Bezel had paint chips all over too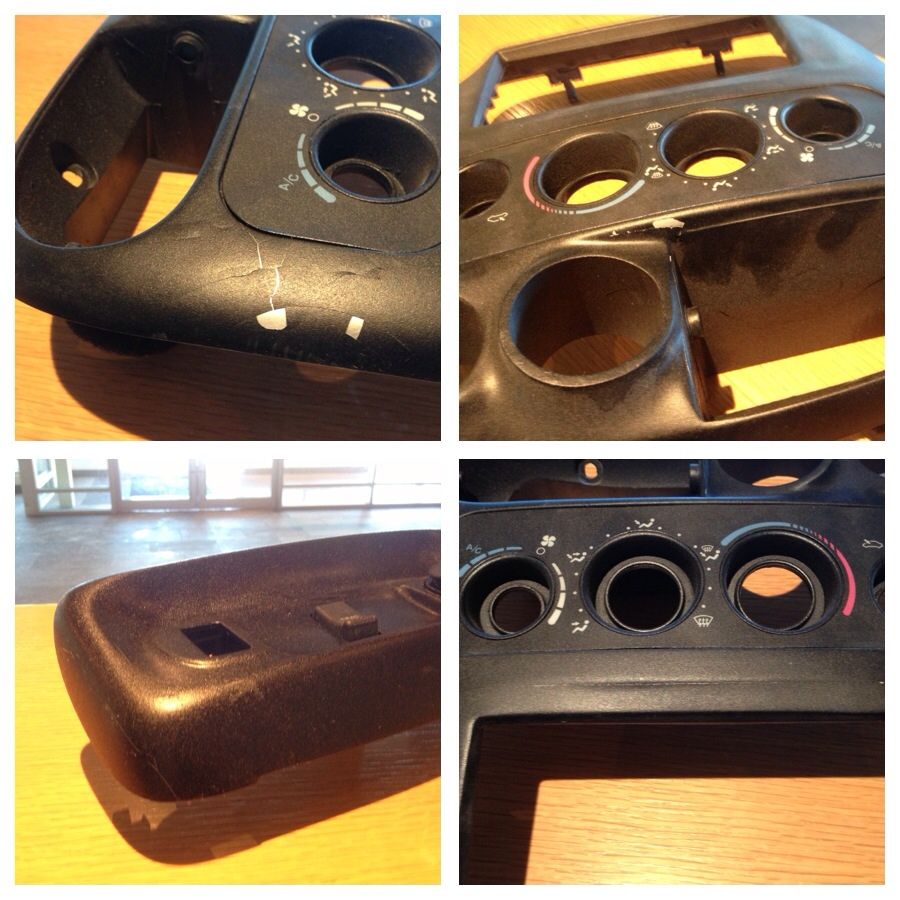 I told him about the issues, and he offered to fix them if I shipped it back to him (at my expense). I declined, because I knew it'd be another month at the very least before it would be done, and another $25 for shipping. He then offered to make me a new one if I shipped back mine right away, I declined that as well. I'm not going to be waiting for a new one and have no radio in the mean time. He decided that he would make and send me a new one (along with my missing relar/defrost button) and when I got it I could ship back the broken one. The cubby I would either have to fix myself, or send it back to him so he could fix it (at my expense).
When I went to put in my AEM gauges in the bezel, they didn't fit. I told him, and he said I'd have to sand the pods down so they could fit. I was upset with that. I ordered a CUSTOM bezel, why do I have to do more work to it? In the beginning I told him I had AEM gauges and he said they fit no problem. It's not a big issue, but it would've been nice to know this ahead of time.
Friday, February 25th, 2013 I was sent a picture of the completed bezel and he said it would be shipped out. I got it in the mail today (Monday, March 11, 2013). Once again, I sanded out the pods so the gauges would fit. I took the old bezel out and as I was taking out the gauges the two pods ripped off completely.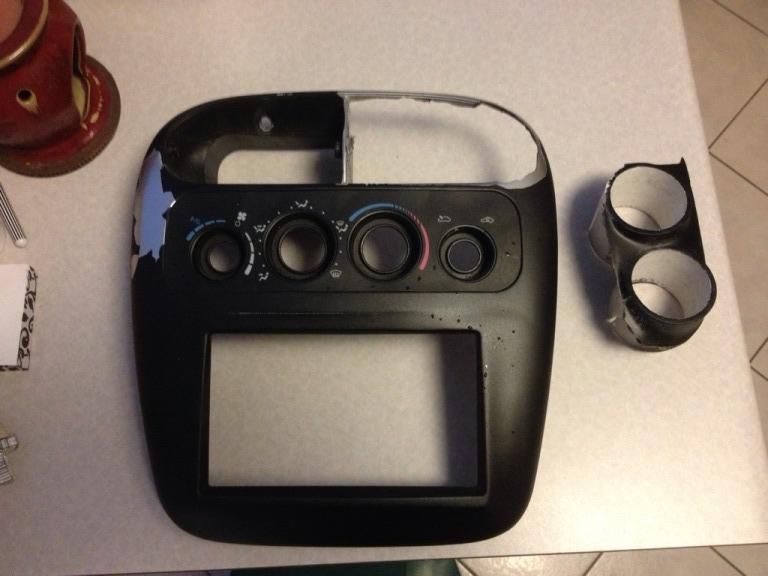 I told him everything was received and swapped out, he asked for me to ship back the old bezel so he could fix it and sell it. I told him I would need roughly $30 for shipping. Since none of this was my fault, and I've paid enough as it is already. He told me to just keep it, he's too busy for this.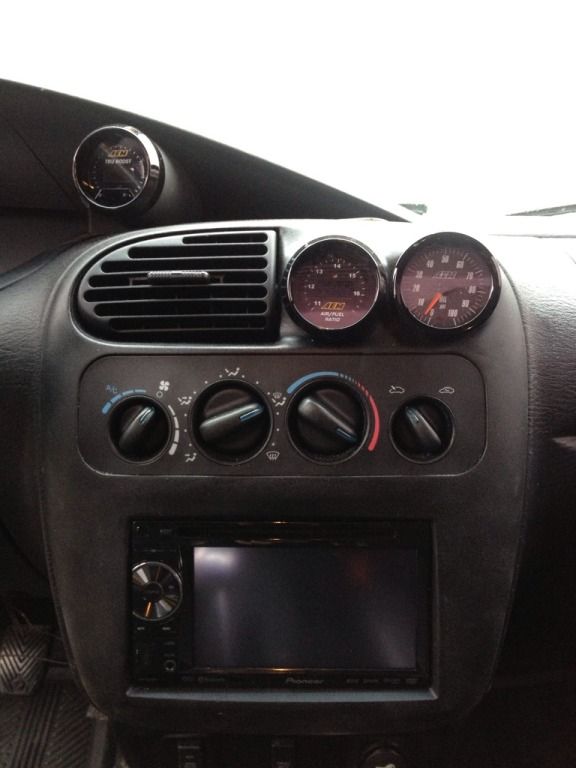 The bezel looks good from far away, and in pictures. There are lots of imperfections, uneven molding, and little cracks. I'm not impressed at all, but I'll deal with it at this point.
Overall, I would not recommend his services to anyone. I found the wait time was excessive, and the final product did not live up to the description originally given.