n00b
Posts: 9
Joined: Mon Jun 04, 2018 6:26 am
2005 Dodge Neon Srt4 On Ebay
https://www.ebay.com/itm/2005-Dodge-Neo ... 2783502664?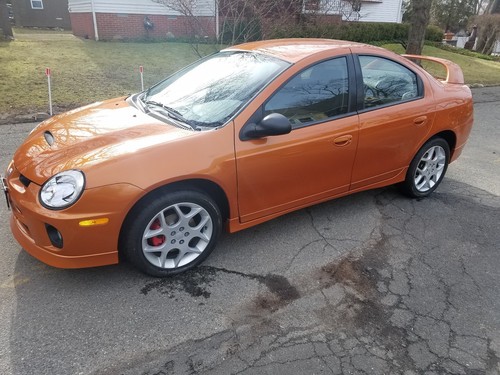 ---
Junior Admin
Posts: 19203
Joined: Thu May 03, 2007 12:14 pm
Location: Ashland Ohio
Wow, even less modded than David's car.
Up for sale is my 1 owner gem mint 2005 dodge neon srt4. The title and carfax are clean with no issues at all The car has 2k original miles and still have the original wheels and tires with a mere 600 miles. The wheels were taken off the car and stored in a climate controlled room to prevent the tire from rotting. This srt4 is a stage 1 from factory and is in OEM condition. There is no rust or issues at all with this vehicle. The car will stay in this condition due to it being a showroom vehicle. Please message me with any further questions or inquiries.
---
Such a bummer that the front plate holder was screwed into that bumper.
02 base -> 05 SRT ACR -> 96 sedan -> 99 R/T coupe -> 02 R/T -> 03 SRT
---
2014 Platinum Contributor
Posts: 7940
Joined: Wed Aug 02, 2006 2:49 am
Location: Indianapolis, IN
occasional demons

wrote:

↑

Fri Jan 11, 2019 7:59 am

Wow, even less modded than David's car.
C'mon, I left stock status years ago.
True. Probably the only positive thing that resulted from my accident years ago is the fact that the body shop put a new front clip on that didn't have a plate holder like the OEM one had.
Official "I'm Going To Drive My Neon 'til It Dies" Club #10
---