Name: Stephen Peters
Location: Gardner, Kansas
Contact: Private message me here
Selling Daves R/T. Honestly do not care if I sell it or not, since I LOVE this car and I do have future plans for it. But money talks and I will sell it if someone has the $$$$. Looking into getting into something different. I have always driven neons and thinking about switching it up a bit.
Options/Mods
-Cruise control
-ABS/Traction Control
-4 wheel disc brakes
-Iceman intake w/ K&N filter
-Custom powder coated valve cover
-Thermal R/D rear exhaust section
-Granatelli wires and Iridium plugs
-Booger and JM shift bushings
-Short Throw Shifter
-MOMO shift knob (Italy) knob
-ARP wheel studs on all 4 corners
-Wheel spacers
-Red OEM badging throughout the car. The factory silver bubble lettering was coming off so it had to go
I get around 31MPG on the highway, and 28MPG city and highway driving. I bought the car with 103k on it and it sits at 112k. This is low mileage for an 01. I have quite the list of service records that has been done to it before I bought it. Around $5k put into it... Here is a list of some of them:
-Gates Racing timing belt, an OEM water pump and a new PCI tensioner @103k
-NGK Iridiums
-Granetelli wires
-OEM battery cable
-Replaced MTV actuator
-cleaned TB
-New OEM PCV valve
-Redline MTL trans fluid
-FR wheel bearing
-FR tie rod end
-ball joint seal
-added zerks and greased both ball joints
-coolant flush
-OEM thermostat
-OEM multifunction switch
-new foglights
-polished headlights
-Polk db650 front door speakers
-new battery
-AC recharged
-All the seats were taken out and the carpet was cleaned
-4 NEW R/T 16'' Silverstone rims.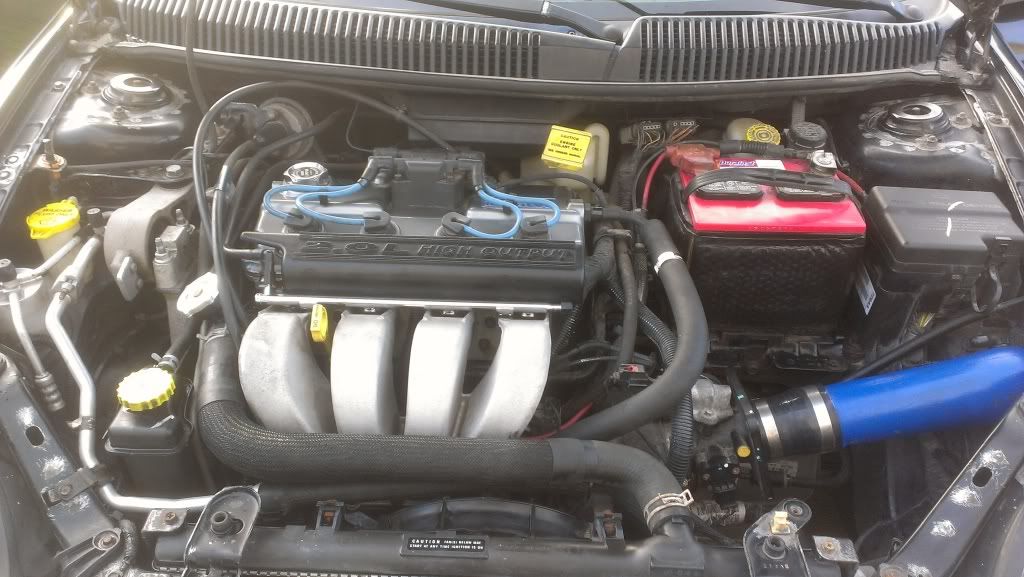 Title in hand and clean. No wrecks.
Car runs and drives great. Shifts smooth.
The bad:
CEL is on due to PS switch. I just reset the battery and it goes away. Then randomly comes on when it wants to. It steers perfect and fluid is fine. Probably needs a new PS switch after researching.
-Clunks a little bit in the rear. Dave included 4 low mileage OEM struts which will go along with it. I never got around to installing them. :/ If car doesn't sell I will be fixing all this. But as you can see in the pictures, this is one clean R/T. I highly doubt you will find one in this great of shape anywhere. Its really well taken care of. Minus the above.
Price:
Asking $4000
FIRM
I have it on CL at $4500.