PROJECTORS AND HIDS: THE THREAD TO END ALL THREADS.
Where can I buy projectors?
You can purchase the projector's on EBay ( Search for "Dodge Neon Projectors" ) or at
www.modernperformance.com
. While they might be cheaper on Ebay, as you might imagine, you get little customer service, and possibly no refund if things go wrong. Modern Performance is a company that is willing to bend over backwards to help you out.
Can I use my stock bulbs / What bulbs do they come with?
You CAN NOT use your stock bulbs, as these headlights require H1 bulbs to work. They are much smaller in size in comparison to our stock 9007 bulbs. Bulbs WILL be provided and already installed.
Who makes them?
It is not really known. Someone out there is making them and sending them to all of the companies on ebay and Modern Performance. With that said, ALL HEADLIGHTS ARE THE SAME, no matter where you buy them. They are all the same in shape, and design. Some come with the LEDS on the top and some come with them on the side. In black and chrome.
Are the headlights hard to install?
Not at all. Remove your old headlights, and plug the stock harness into the new harness for the headlights, easy! No cutting or welding needed! You need a 8MM socket to remove the headlight bolts, btw.
How can I wire up the Halos and LEDs?
How ever you like! You can set it up that some of them are on all the time, or used as turn signals, etc. I personally have it so that everything runs like parking lights, so if I have my DRL's on, the Halos and LEDs are on with them. It is more common to hook up the LEDs to use them as a dual turn signal.
Can I change out the LED's / Halo color?
Yes, you can just twist and pull them out. They use 194 bulbs for the LED's.

Do they fog up / get water in them at all?
This seems to be a hit or miss. Some people have reported getting water into their's and others havent. Mine fog up only when it rains and there is a sudden temperture change, while the inside of the housing is still the opposite temperture of outside, causing condensation, and only the right one does it. This has not effected my headlights output/beam AT ALL. Nor, has it left any dirt deposits or anything like that. You have to remember, that ALL aftermarket headlights / taillights run the risk of fogging, not just the projectors.
Is the light output better than stock?
Even with the stock bulbs they come with, the light output is signifigantly better than stock. What the projectors do is control the glare up top and redirect the light downwards onto the road where you need it, instead of up in the trees, resulting in better light output. They are not as wide as the stock headlights are, but they project a much more saturated light area, and reach further also, with an HID kit, expect the result to be even greater.
Here are some pictures of the light output you can expect with the STOCK BULBS: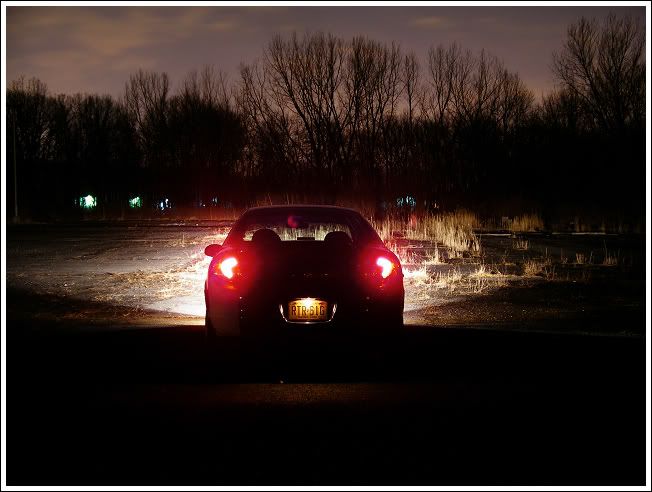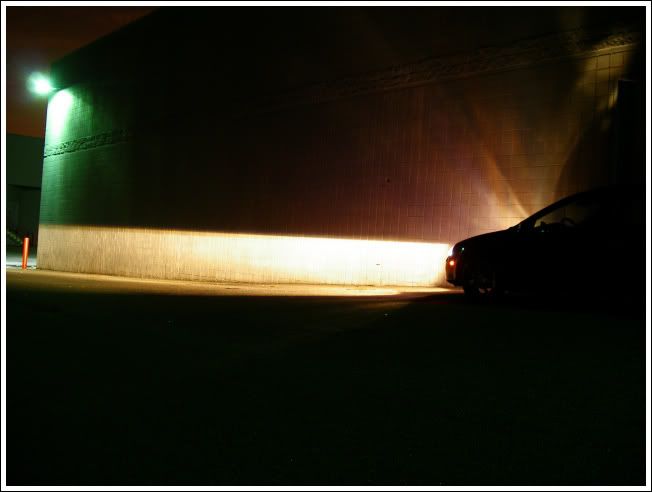 For HID-equipped pictures, read on to the HID portion of this write up.
This was also my car back last March, when it had 17"s on the stock ride height. P - I - M - P !
How do I aim these headlights?
If you look on the backside there will be a slot for a screwdriver in the middle of what looks like a beer bottle top. Use a screwdriver and turn left / right to make adjustments. Follow this diagram to aim:
And read this, a direct quote from Chris. (LamboStealth)
When you aim them, put the car on a perfectly level surface facing a white wall, garage door, etc. Make sure the car is 25ft. away from the wall. Take a measuring tape, measure from the ground to dead center of the headlight, then put a peice of tape on the wall at the same height. Then put the low line of the cutoff 2" under the tape. That is the proper way to adjust projectors on any oem equipped car.
I was driving behind my friend, and he said they were flickering and changing color, what's wrong?
Chances are there is nothing wrong with your headlights at all! You see, projectors have a cut-off line, which is the point where the light is no longer aimed. These cut off lines are very colorful! Say, for instance, if you hit a bump and the cutoff line goes above someones mirror, they will get flashed a colorful rainbow of purple hues. This is normal, and nothing to worry about. Watch some cars next time you are on the road, you might even notice that their headlights are unaimed because of the difference in the height off cut-off lines.
How do I change out the bulbs?
This is the backing of the low beam, which is your projector. See on the left side, the clip that is going into the hook? Press down on it and move it to the side, and this will release the bulb and unit.
This is the backing of the high beam. Look up top. Squeeze the two circular parts inward to each other, push down, and release them out of where they were held in. This will release the blub and unit.
Can I put eyelids on them / what eyelids can I fit on them?
Since the actual outer housing buldges out WAY more than stock, you are going to have more of a harder time getting them to fit on these headlights (More so for the 00-02 models) Especially when it comes to the S-Style. I have Carbon Fiber S-Style on my car, but I went through the tedious task of heating them up with a heat gun, forming them to the headlight, then dumping cold water and a very cold rag on them to get them to stay that way. And they are not coming off any time soon! You also might want to consider Vinyl eyelids, while they are much easier to make unique, they do not look nearly as good as fiberglass / carbon fiber.
Are they legal?
Yes, these headlights are 100% DOT & SAE approved. If you look on the headlight towards the bottom you can see the engrave / stamp code. Never let a cop give you a ticket for these headlights!
Now that you have your baller status Projector lights, how about some HID's to go with them?!?!?! Which will raise the first questions...
Do the projectors come with HID's?
No, HID's are something you will have to buy seperately. Regular halogen bulbs will be provided with the headlights however. You will need H1 bulbs.
Can I run HID's in the projectors? Is it safe?
While all of the projector lights have some sort of sticker condoning the use of HID lights inside them, I, and many otheres have taken the risk of running them and no one has had any problems. Some people say not to do it because "they say not too", but they don't know cause they haven't tried.

Will the HID's fit into the projectors?
It depends on where you buy yours from. Some people have had no problems. I was actually scraping the sides of the insert when I tried to put my HID bulbs in, so I took a 3/8 drill bit to open them up a bit, and it works great, they are completely snug and and fit fine.

Are the HID's too hot for the projector?
HID's actually burn cooler than halogen lights! Regular halogen lights run at 50/55 watts, and your standard HID kit runs at 35 watts. This allows them to run much cooler, and draw much less power from your battery also. My HID kit runs at 50 watts, and I have had no problem what so ever with any burning / cooling issues, and if I haven't had any problems, you definitely shouldn't.
A fellow member here, Paralyzer had a rare burning issue with his lights however. It wasn't the projector, but the outer housing that actually got burned. To see that thread
CLICK HERE
. He was fortunate enough to get a replacement set, which is why I said earlier, to spend the extra money and buy at Modern Performance, because they love their customers.
What do the temperature ratings (Kelivn Ratings) mean? What should I get?
This is the basic color scale that all HIDs come in. Typical colors HIDs come in are 3000K, 4300K (Provided on OEM HID equipped cars), 5000K, 6000K, 8000K, 10000K, and 12000K. There are rare one-offs like 6500K, 14000K, but I will explain that later.
Now what do these numbers mean? These are directly related to light output, or Lumens. This diagram shows it very well:
If you look closely enough, you can see that the highest point on that line is in the white area, before the "5400K" mark, which would be our 4300K HID bulb! What does that mean? It means that if you want the best light output possible, get a 4300K set! These omit a white with a ever-so-slight hint of yellow when reflected off the road, like a halogen bulb.
You can also see that after the "5400K" mark, the Lumens begin to decrease rapidly as you enter the blue scale.
Here is a color diagram to help you better understand:
In color terms, heres what you can expect when buying HID kits...
3000K
- Golden / JDM Yellow.
4300K
- Pure White, yellowish hue still present. (
#1 Choice for light output.
)
5000K
- Extreme White, all presence of yellow gone. (
#2 Choice if you want to get rid of the yellowish bit that 4300K kits carry.
)
6000K
- White with a slight blue tint. (
Best choice if you really want to have some color, this is also what I have, love it.
)
8000K
- Blue with a slight white tint. (
Really starts to lose lumens at this point.
)
10000K
- A very deep, rich blue. (
Lumens are walking out the door now..
)
12000K
- PURPLE. (
Sexy, but EXTREMELY ineffecient.
)
14000K
+ UP
- Deep purple, and beyond, to things like green. (
Really should only be used for show use.
)
You see what also makes those crazy colored kits bad for us is that colors like blue, purple etc are much harder for the eye to process and receive than colors like yellow and white, which makes using those colors to light up the things on the road in front of us stupid, because even though the kits are brighter than your old halogen bulbs, you are really straining your eyes.
But I totally like saw that guy with 10000/12000K bulbs and he was lighting up everything!
That's most likely because he had HIDs in the stock halogen housing. (Halogen housings are what our cars come with stock.) Those housings are extremely bad for using HIDs, because of the glare that comes with it. That glare is also what makes it look like hes lighting up everything, when really he is just scattering light everywhere. That is why it looks so bright when coming head on / coming up behind you. But anyway, were too cool for halogen housings, right? That's why your reading this thread anyway, duh...
Okay, so what light output can I expect with HIDs in my projectors?
It will look a little somethin' like this:
These are with 6000K Bulbs
This is the color they shine, at night it's a little more blue.
This is my friends Jetta with 8000K bulbs, look awesome, but I totally own his ass in light output:
What does a HID kit come with?
An HID kit that is LEGIT will come with:
2 Bulbs, 2 Ballasts, connective wiring, and a complete wiring harness.
WTF is a Ballast? What's the wiring harness?
The ballast is a little square box that is converting the power to get your HIDs to light up. Without this you wouldn't have HIDs. When buying an HID kit make SURE, and I can't stress this enough, make SURE it comes with a wiring harness. The wiring harness is what will make sure that you don't overload your stock wiring, which could cost you big money down the road. The new wiring harness is designed to take the power that HIDs require to work. Sure some people have been lucky enough to rock HIDs on the stock wiring, but you can never be too careful, right?
Where can I put the ballasts?
Try to find places that are away from as much heat and vibration as possible. Real good places are the fender walls, which is where I have mine mounted. Like shown:
How much can I expect to pay / Where can I buy them?
I would say 150+ for a good kit. I got mine for 200 shipped. (Were suppost to be 400 shipped, because of the 50W, but I had some connections, but anyway...) 200 +/- 25$ seems to be typical in the Neon community. You can get them on Ebay, but be careful, check feedback, and see what kind of company they are coming from. Check on SRTforum group buy section, or check out your local speed shop. And I DON'T mean Auto Zone / Pep Boys. I mean tuning shop, etc.
How long can I expect my HIDs to last?
What's great about HID bulbs is that not only are they brighter, they last way longer than your standard halogen bulb! Up to ten times longer in some cases. I believe the average HID bulb was rated around ~2000 hours.
Are HIDs legal?
Even though we have our new HIDs in a safe, projector housing, they are infact illegial. It is DOT law that any car not equipped with HIDs from the factory can not have them legally. Even if they are in our safe projector housing. I've never gotten shit for it, and I don't know anyway that has gotten in trouble for it, but if you can get an accident, the other person can easily claim that your headlights were blinding them, etc.
With all this said, read up and enjoy your new lighting set up.
Mods please sticky this, it will end a lot of useless threads.
And to all, if I missed anything, post it up and I will edit this. I'm tired as hell and I'm sure theres some questions I'm forgetting...
Also, this thread is meant to cover the standard premade projectors from ebay and modern performance. If you are doing your own custom retrofit, or plan to, sign up at
http://www.hidplanet.com
and read up.
- Anthony