Name's Max... I'm 27, in the Army stationed in Germany. I'm a 63M Bradley Systems Maintainer.... in other words I work on tainks. I'm an E5 so I've got people under me who actually do all the work.... I just supervise. Been stationed here since March 03 and I'll be here til Dec 09.
So.... Never planned on doing anything with this car. I had it for 13 hours. 44 miles and then this happened: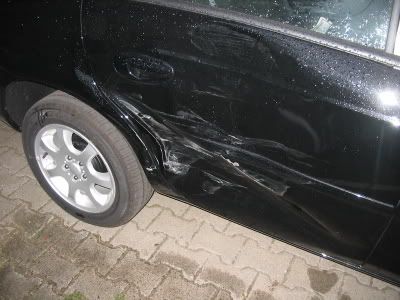 So.... I took the money I got from depreciatition and turned around and spent it on the car. SRT wheels, SRT exhaust.... it went a little further than I had ever expected. I've got some stuff on the way for it currently. Working a few deals for engine goodies. I've got an MPx 60mm TB that I'm waiting to put on until I get more engine stuff so it'll actually feel like the car is fast. I SHOULD have an SRT body kit this week depending on my money situation. I had it sent off to paint. Also be putting on a rear window spoiler at the same time.
All that said.... I'm going to look into an SRT-4 that is said to be for sale in my area tomorrow. If its true.... I'll drop this car like a bad habit.
Anyway.. here's the car now: