I have received a few requests for the differences in the PCM wiring between the 2.0 and the 2.4 (as well as manual to ATX and R/T to non). This post will illustrate the differences.
I used the 2004 NGC and the 2002 JTEC for reference, but there were very few changes from 03-05 (NGC) and 00-02 (JTEC). As I sort out the post I will note any changes.
*Update 7/27/11* Per request, I have added the different pin-outs for the JTEC PT Cruiser.
Ok, here we go...
NGC Connectors
POWERTRAIN CONTROL MODULE C1 - BLACK 38 WAY
CAV...CIRCUIT...........FUNCTION
1 - -
2 - -
3 - -
4 - -
5 - -
6 - -
7 - -
8 - -
9.......Z11 18BK/WT...GROUND
10 - -
11.....F12 18DB/WT...(2.0L) FUSED IGNITION SWITCH OUTPUT (RUN-START)
11.....F12 18DB/RD....(2.4L TURBO) FUSED IGNITION SWITCH OUTPUT (RUN-START)
12.....F11 20RD/WT...(2.0L AUTOSTICK) IGNITION SWITCH OUTPUT (OFF-RUN-START)
12.....F11 20RD/WT...(2.0L EXCEPT AUTOSTICK) FUSED IGNITION SWITCH OUTPUT (RUN-START)
13.....G7 20WT/OR....VEHICLE SPEED SIGNAL
14.....G9 20GY/BK......BRAKE FLUID LEVEL SWITCH SENSE
15.....K55 18LB.........(2.4L TURBO) TIP SOL CONTROL
16 - -
17.....K150 18DB/YL..(2.4L TURBO) SURGE SOL CONTROL
18.....Z12 18BK/TN....GROUND
19 - -
20.....G6 20GY...........OIL PRESSURE SIGNAL
21 - -
22.....K145 20BR/OR..AAT SIGNAL
23.....K153 18LB.......(2.4L TURBO) TIP SIGNAL
24 - -
25.....D20 20LG.........SCI RECEIVE (PCM)
26.....D6 20PK/LB......(2.0L) SCI RECEIVE (TCM)
27.....K6 20VT/WT.....(2.0L) 5 VOLT SUPPLY
27.....K6 18VT/WT.....(2.4L TURBO) 5 VOLT SUPPLY
28.....K137 18DB/GY..(2.4L TURBO) WASTEGATE SOL CONTROL
29.....A14 18RD/WT....FUSED B(+)
30.....A41 16YL...........FUSED IGNITION SWITCH OUTPUT (START)
31 - -
32 - -
33 - -
34 - -
35 - -
36.....D21 20PK..........SCI TRANSMIT (PCM)
37.....D15 20WT/DG...(2.0L) SCI TRANSMIT (TCM)
38.....D25 20VT/YL......PCI BUS (PCM)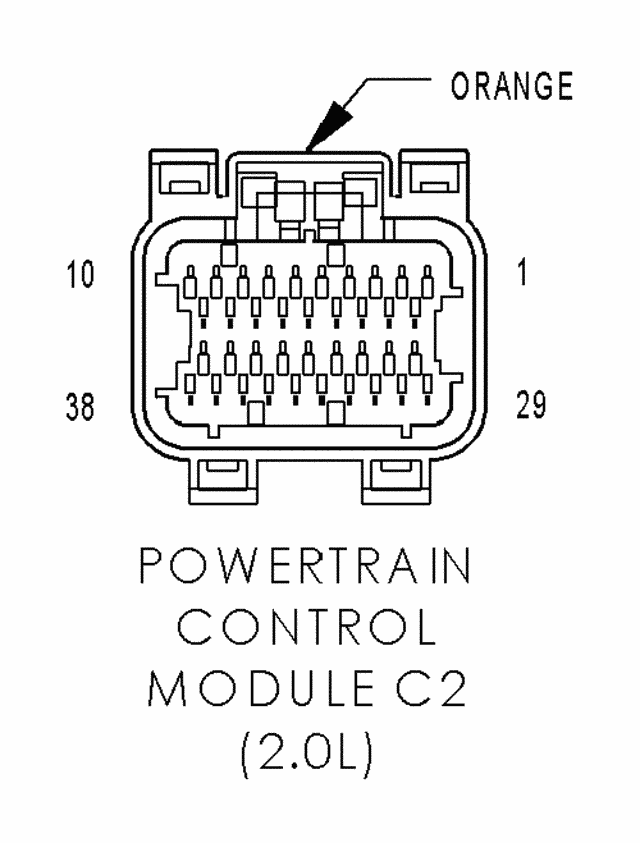 POWERTRAIN CONTROL MODULE C2 (2.0L) - ORANGE 38 WAY
CAV...CIRCUIT..............FUNCTION
1 - -
2 - -
3 - -
4 - -
5 - -
6 - -
7 - -
8 - -
9.......K17 18DB/TN.......COIL CONTROL NO. 2
10.....K19 18BK/GY.......COIL CONTROL NO. 1
11.....K14 18LB/BR........INJECTOR CONTROL NO. 4
12.....K13 18YL/WT.......INJECTOR CONTROL NO. 3
13.....K12 18TN.............INJECTOR CONTROL NO. 2
14.....K11 18WT/DB......INJECTOR CONTROL NO. 1
15 - -
16.....K200 20VT/OR.....(RT) MTV CONTROL
17.....K199 18BR/VT......O2 1/2 HEATER CONTROL
18.....K99 18BR/OR.......O2 1/1 HEATER CONTROL
19.....K20 20DG............GEN FIELD CONTROL
20.....K2 20VT/LG..........ECT SIGNAL
21.....K22 20OR/DB.......TP SIGNAL
22 - -
23.....K1 20DG/RD.........MAP SIGNAL
24.....K45 20BK/VT........KS RETURN
25.....K42 20DB/LG........KS SIGNAL
26 - -
27.....K4 20BK/LB..........SENSOR GROUND
28.....K961 20BR/WT.....IAC RETURN
29.....K7 20OR..............5 VOLT SUPPLY
30.....K21 20BK/RD........IAT SIGNAL
31.....K41 20BK/DG.......O2 1/1 SIGNAL
32.....K904 20DB/DG.....O2 RETURN
33.....K141 20TN/WT.....O2 1/2 SIGNAL
34.....K44 20TN/YL........CMP SIGNAL
35.....K24 20GY/BK.......CKP SIGNAL
36 - -
37 - -
38.....K610 20VT/GY......IAC MOTOR CONTROL
POWERTRAIN CONTROL MODULE C2 (2.4L TURBO) - GRAY 38 WAY
CAV...CIRCUIT..............FUNCTION
1 - -
2 - -
3 - -
4 - -
5 - -
6 - -
7 - -
8 - -
9.......K17 16DB/TN.......COIL CONTROL NO. 2
10.....K19 16BK/GY.......COIL CONTROL NO. 1
11.....K14 18LB/BR........INJECTOR CONTROL NO. 4
12.....K13 18YL/WT.......INJECTOR CONTROL NO. 3
13.....K12 18TN.............INJECTOR CONTROL NO. 2
14.....K11 18WT/DB......INJECTOR CONTROL NO. 1
15 - -
16 - -
17.....K199 18BR/VT......O2 1/2 HEATER CONTROL
18.....K99 18BR/OR.......O2 1/1 HEATER CONTROL
19.....K20 18DG............GEN FIELD CONTROL
20.....K2 20TN/BK..........ECT SIGNAL
21.....K22 20OR/DB.......TP SIGNAL
22 - -
23.....K1 20DG/RD.........MAP SIGNAL
24.....K45 20BK/VT........KS RETURN
25.....K42 20DB/LG........KS SIGNAL
26 - -
27.....K4 18BK/LB..........SENSOR GROUND
28.....K961 18BR/VT......IAC RETURN
29.....K7 18OR...............5 VOLT SUPPLY
30.....K21 20BK/RD.......IAT SIGNAL
31.....K41 20BK/DG.......O2 1/1 SIGNAL
32.....K904 18DB/DG.....O2 RETURN
33.....K141 20TN/WT.....O2 1/2 SIGNAL
34.....K44 20TN/YL........CMP SIGNAL
35.....K24 20GY/BK........CKP SIGNAL
36 - -
37 - -
38.....K610 18VT/GY......IAC MOTOR CONTROL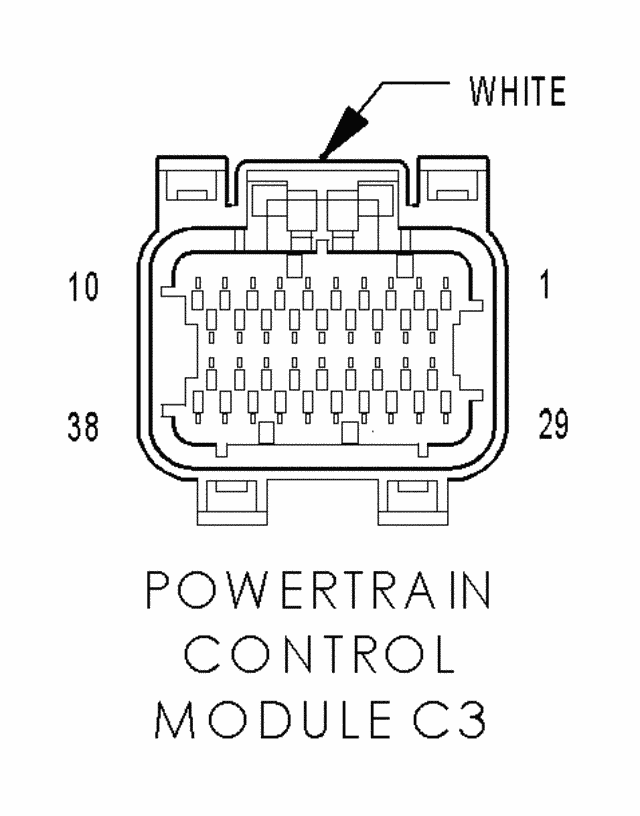 POWERTRAIN CONTROL MODULE C3 - WHITE 38 WAY
CAV...CIRCUIT..............FUNCTION
1 - -
2 - -
3.......K51 20DB/YL.......(2.0L) AUTOMATIC SHUT DOWN RELAY CONTROL
3.......K51 18DB/YL.......(2.4L TURBO) AUTOMATIC SHUT DOWN RELAY CONTROL
4.......C27 18DB/PK.......(2.4L TURBO) HIGH SPEED RAD FAN RELAY CONTROL
5.......V35 20LG/RD.......(2.0L) S/C VENT CONTROL
6.......C27 20DB/PK.......(2.0L) RAD FAN RELAY CONTROL
6.......C24 18DB/RD.......(2.4L TURBO) RAD FAN LOW RELAY CONTROL
7.......V32 20YL/RD........(2.0L) S/C SUPPLY
8.......K106 20WT/DG....(2.0L) NVLD SOLENOID CONTROL
8.......K106 18WT/DG....(2.4L TURBO) NVLD SOLENOID CONTROL
9 - -
10 - -
11.....C28 20DB/OR.......(2.0L) A/C CLUTCH RELAY CONTROL
11.....C28 18DB/OR.......(2.4L TURBO) A/C CLUTCH RELAY CONTROL
12.....V36 20TN/RD........(2.0L) S/C VACUUM CONTROL
13 - -
14 - -
15 - -
16 - -
17.....K167 20BR/YL.......(2.0L) SENSOR GROUND 2
17.....K167 18BR/YL.......(2.4L TURBO) SENSOR GROUND 2
18 - -
19.....A142 18DG/OR......AUTOMATIC SHUT DOWN RELAY OUTPUT
20.....K52 20PK/BK.........EVAP/PURGE CONTROL
21.....T141 20YL/RD.......CLUTCH INTERLOCK SWITCH SIGNAL
22 - -
23.....K29 20WT/PK........BRAKE SWITCH SIGNAL
24.....C20 20BR/OR........(2.0L) A/C SWITCH SENSE
24.....C20 20BR..............(2.4L TURBO) A/C SWITCH SENSE
25 - -
26.....T44 20YL/LB..........(2.0L EATX) AUTOSTICK DOWNSHIFT SWITCH SIGNAL
26.....K119 20LG/BK.......(2.0L MTX/2.4L TURBO) CLUTCH UP SWITCH SIGNAL
27.....T5 20LG/LB............(2.0L) AUTOSTICK UPSHIFT SWITCH SIGNAL
28.....A142 18DG/OR.......AUTOMATIC SHUT DOWN RELAY OUTPUT
29.....K108 20WT/TN.......EVAP/PURGE RETURN
30.....K10 20DB/OR.........PSP SWITCH SIGNAL
31 - -
32.....K118 20PK/YL........BATTERY TEMP SIGNAL
33 - -
34.....V37 20RD/LG.........(2.0L) S/C SWITCH SIGNAL
35.....K107 20OR............(2.0L) NVLD SWITCH SIGNAL
35.....K107 18OR............(2.4L TURBO) NVLD SWITCH SIGNAL
36 - -
37.....K31 20BR...............(2.0L) FUEL PUMP RELAY CONTROL
37.....K31 18BR...............(2.4L TURBO) FUEL PUMP RELAY CONTROL
38.....K90 20TN...............STARTER RELAY CONTROL
POWERTRAIN CONTROL MODULE C4 - GREEN 38 WAY
CAV...CIRCUIT.................FUNCTION
1.......T60 18BR...............OVERDRIVE SOLENOID CONTROL
2.......T59 18PK/BK..........(2.0 and 2.4 non Turbo) UNDERDRIVE SOLENOID CONTROL
2.......T59 18PK/BK..........(2.4 Turbo) UNDERDRIVE SOLENOID CONTROL
3 - -
4 - -
5 - -
6.......T19 18WT..............2-4 SOLENOID CONTROL
7 - -
8 - -
9 - -
10.....T20 18LB...............LOW/REVERSE SOLENOID CONTROL
11 - -
12.....Z13 16BK/RD.........GROUND
13 - -
14.....Z13 16BK/RD.........GROUND
15.....T1 20LG/BK............TRS T1 SENSE
16.....T3 20VT..................TRS T3 SENSE
17 - -
18.....T15 20LG...............TRANSMISSION CONTROL RELAY CONTROL
19.....T16 16RD...............TRANSMISSION CONTROL RELAY OUTPUT
20 - -
21 - -
22.....T9 18OR/BK............OVERDRIVE PRESSURE SWITCH SENSE
23 - -
24 - -
25 - -
26 - -
27.....T41 20BK/WT.........TRS T41 SENSE
28.....T16 16RD...............TRANSMISSION CONTROL RELAY OUTPUT
29.....T50 18DG...............LOW/REVERSE PRESSURE SWITCH SENSE
30.....T47 18YL/BK...........2-4 PRESSURE SWITCH SENSE
31 - -
32.....T14 20LG/WT.........OUTPUT SPEED SENSOR SIGNAL
33.....T52 20RD/BK..........INPUT SPEED SENSOR SIGNAL
34.....T13 20DB/BK..........SPEED SENSOR GROUND
35.....T54 20VT/PK...........TRANSMISSION TEMPERATURE SENSOR SIGNAL
36 - -
37.....T42 20VT/WT..........TRS T42 SENSE
38 - -
Pre-NGC (JTEC) Connectors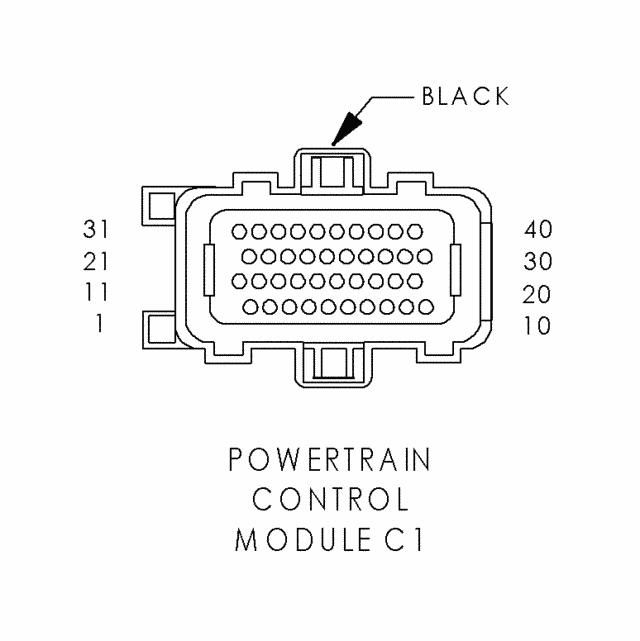 POWERTRAIN CONTROL MODULE C1 (2.0L) - BLACK 40 WAY
CAV...CIRCUIT..................FUNCTION
1 - -
2 - -
3........K17 18DB/TN..........IGNITION COIL NO. 2 DRIVER
4 - -
5........V32 20YL/RD...........SPEED CONTROL SUPPLY
6........A142 18DG/OR........AUTOMATIC SHUT DOWN RELAY OUTPUT
7........K13 18YL/WT..........FUEL INJECTOR NO. 3 DRIVER
8........K20 18DG...............GENERATOR FIELD DRIVER (+)
9 - -
10......Z12 18BK/TN..........GROUND
11......K19 18BK/GY..........IGNITION COIL NO. 1 DRIVER
12......G6 20GY.................ENGINE OIL PRESSURE SWITCH SENSE
13......K11 18WT/DB.........FUEL INJECTOR NO. 1 DRIVER
14 - -
15 - -
16......K14 18LB/BR...........FUEL INJECTOR NO. 4 DRIVER
17......K12 18TN...............FUEL INJECTOR NO. 2 DRIVER
18......K79 18OR/RD.........OXYGEN SENSOR 1/1 HEATER CONTROL
19 - -
20......F12 18DB/WT.........FUSED IGNITION SWITCH OUTPUT (RUN-START)
21 - -
22 - -
23......K119 20LG/BK........CLUTCH SWITCH
24 - -
25......K42 20DB/LG..........KNOCK SENSOR SIGNAL
26......K2 20TN/BK............ENGINE COOLANT TEMPERATURE SENSOR SIGNAL
27......K127 18BK/OR........OXYGEN SENSOR GROUND
28 - -
29 - -
30......K41 20BK/DG..........OXYGEN SENSOR 1/1 SIGNAL
31......K90 20TN...............ENGINE STARTER MOTOR RELAY CONTROL
32......K24 20GY/BK..........CRANKSHAFT POSITION SENSOR SIGNAL
33......K44 20TN/YL..........CAMSHAFT POSITION SENSOR SIGNAL
34 - -
35......K22 20OR/DB.........THROTTLE POSITION SENSOR SIGNAL
36......K1 20DG/RD...........MAP SENSOR SIGNAL
37 - -
38......C20 18BR/OR..........A/C SWITCH SENSE
39......K200 20BR/WT.......(RT PACKAGE) MANIFOLD TUNING VALVE RELAY CONTROL
40......K35 20GY/YL...........EGR SOLENOID CONTROL (P/T ONLY)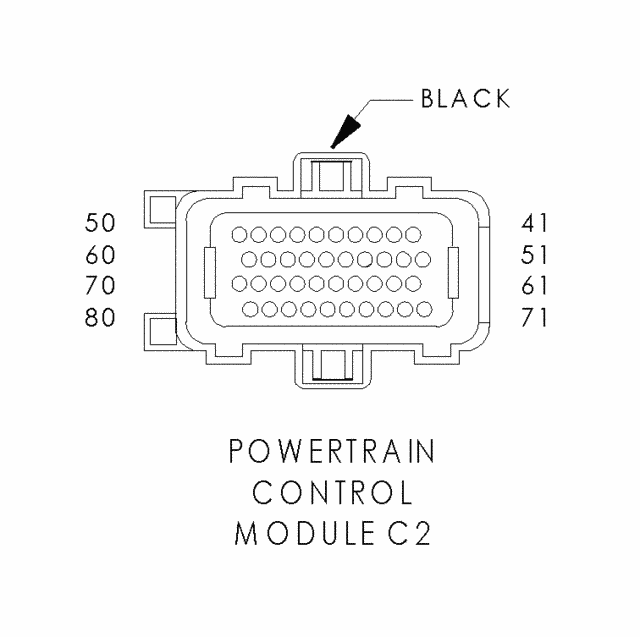 POWERTRAIN CONTROL MODULE C2 (2.0L) - BLACK 40 WAY
CAV...CIRCUIT...................FUNCTION
41......V37 20RD/LG..........(SPEED CONTROL) SPEED CONTROL SWITCH SIGNAL
42 - -
43......K4 20BK/LB.............SENSOR GROUND
44......K7 20OR..................8V SUPPLY
45......K10 20WT...............POWER STEERING PRESSURE SWITCH SENSE
45......K10 20DB/OR..........POWER STEERING PRESSURE SWITCH SENSE - PT ONLY (SAME CIRCUIT BUT A DIFFERENT COLOR)
46......A14 18RD/WT..........FUSED B(+)
47......Z11 18BK/WT..........GROUND
48......K40 20BR/WT..........IDLE AIR CONTROL NO.3 DRIVER - PT ONLY
49......K610 20YL/BK..........IDLE AIR CONTROL DRIVER
49......K60 20YL/BK............IDLE AIR CONTROL NO.2 DRIVER - PT ONLY
50......Z12 18BK/TN...........GROUND
51......K141 20TN/WT........OXYGEN SENSOR 1/2 SIGNAL
52......K21 20BK/RD...........INLET AIR TEMPERATURE SENSOR SIGNAL
53 - -
54 - -
55......C27 20DB/PK...........RADIATOR FAN RELAY CONTROL
55......C24 20YL/RD............LOW SPEED RADIATOR FAN RELAY CONTROL - PT ONLY
56......V36 20TN/RD...........(SPEED CONTROL) SPEED CONTROL VACUUM SOLENOID CONTROL
57......K961 20GY/YL..........IDLE AIR CONTROL MOTOR SENSE
57......K39 20GY/RD...........IDLE AIR CONTROL NO. 1 DRIVER - PT ONLY
58......K59 20VT/BK............IDLE AIR CONTROL NO. 4 DRIVER - PT ONLY
59......D25 20VT/YL............PCI BUS
60 - -
61......K6 18VT/WT.............5V SUPPLY
62......K29 20WT/PK...........BRAKE LAMP SWITCH SENSE
63......T10 18YL/DG............(EATX) TORQUE MANAGEMENT REQUEST SENSE
64......C28 20DB/OR............A/C COMPRESSOR CLUTCH RELAY CONTROL
65......D21 18PK..................SCI TRANSMIT
66......G7 20WT/OR.............VEHICLE SPEED SENSOR SIGNAL
67......K51 20DB/YL.............AUTOMATIC SHUT DOWN RELAY CONTROL
68......K52 20PK/BK.............EVAP/PURGE SOLENOID CONTROL
69......C27 20DB/PK............HIGH SPEED RADIATOR FAN RELAY CONTROL - PT ONLY
70......K108 20DB................EVAPORATIVE EMISSION SOLENOID SENSE *
THIS WIRE MAY BE WT/TN OR VT/RD ON A PT, BUT THE CIRCUIT IS THE SAME
71......G9 18GY/BK...............BRAKE FLUID LEVEL SWITCH SENSE
72......K107 18YL.................(LHD) LEAK DETECTION PUMP SWITCH SENSE *
THIS WIRE MAY BE OR/YL OR YL/BK ON A PT, BUT THE CIRCUIT IS THE SAME
73 - -
74......K31 20BR..................FUEL PUMP RELAY CONTROL
75......D20 20LG..................SCI RECEIVE
76......T141 20YL/RD...........(MTX) CLUTCH INTERLOCK SWITCH SENSE
76......T41 18BR/YL.............(EATX) TRS T41 SENSE *
MAY BE BK/WT ON PT
77......K106 18WT/DG.........(LHD) LEAK DETECTION PUMP SOLENOID CONTROL
78 - -
79 - -
80......V35 20LG/RD............(SPEED CONTROL) SPEED CONTROL VENT SOLENOID CONTROL