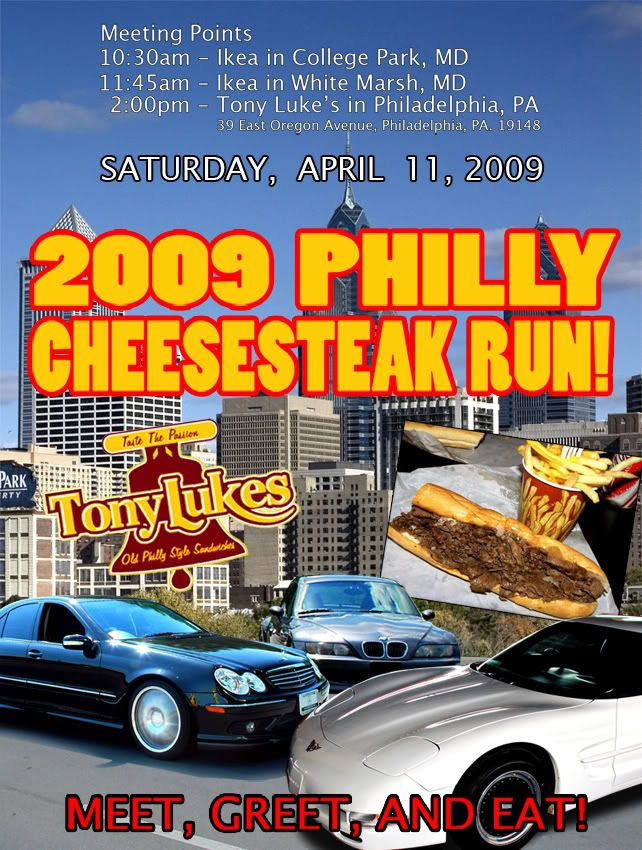 Philly Cheesesteak Run
Saturday, April 11, 2009
ALL MAKES & MODELS WELCOME!!!
10:30am – Meet at Ikea in College Park, MD
10100 Baltimore Ave
College Park, MD 20740
Leaving promptly at 11am. It takes about 45 minutes to get there from College Park.
11:45am – Meet at Ikea in White Marsh, MD
8352 Honeygo Blvd
Baltimore, MD 21236
Leaving promptly at 12:15pm. There will be a $5 toll and a $4 toll on the way to Tony Luke's. It takes about 1 hour and 45 minutes to get there from White Marsh.
2:00pm – Meet at Tony Luke's in Philadelphia, PA
39 East Oregon Avenue
Philadelphia, PA. 19148
Directions:
http://maps.google.com/maps?f=d&sour...57&ie=UTF8&z=9
Costs - $11 in tolls from College Park, $6 in tolls back. A Cheesesteak is around $7 plus drinks. They also have other sandwiches, fries, mozzerella sticks, etc.
If you live in the PA, NJ, DE, NY etc area and don't want to join the cruise (or want to set up your own), just meet at Tony Luke's around 2:00pm.
Website:
http://www.tonylukes.com
. There is an outside restaurant where you order from a window, or there is a sit-down restaurant with servers. I recommend the outside restaurant. There is lots of parking next to the sit-down restaurant.
DISCLAIMERS
*Burnouts, loud music, and/or any kind of disruptive behavior in the parking lot will not be tolerated. Tony Luke's is cool with us being there but we don't want to be asked to leave. Just act civilized.*
** If you don't have Easy Pass, catch up to the group later or just run through the toll and pay the fine (it's like $20). We can't wait for you on the side of the highway.**
***Please print your own directions (even if you have GPS!). We can't, and won't, be held responsible if you can't keep up with the group or if you get lost.***
****Please drive responsibly. The food will be just as tasty regardless of how fast you get up there.***