I bought a set of rear SRT-4 brakes, complete with knuckes/spindles. So when the rotor and knuckle assembly was bolted in place, I noticed the passenger side was crooked.
Not to worry... by chance, I've had a set of SRT-4 rear knuckle/spindles just chillaxin in the garage on the shelf. So we pulled apart the hub and everything, and this is what we found:
The guy who sold me the parts did say the car was rolled. Boy was it!
The comparison: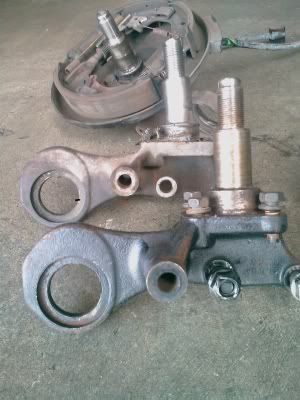 Anyways, the brakes are in, and I need to get a rear alignment now. But those of you who have rear SRT-4 brake swaps with stock fronts are right -- it makes a BIG improvement in stopping power