Well I got my "8000k" foglight bulbs from the Texon store. I went ahead and installed them. Pass. one was cake of course. Driver side one required me to take out my headlamp. Unbolt the horn and move that aside. Took the entire foglight out. Still couldn't twist the old bulb out, so I took a pair of pliers and it came out.
Glad I took it out because this pass. foglight has been filled with condensation. So I charged up my little compressor and blew air in it and got all the water/condensation out. I then took some Simple Green and cleaned up a bit and sprayed around the edges...
Blew more air into it and sure enough one little section on the bottom was bubbling.... Tried to figure out what to use to seal it up. The onle thing I had that MIGHT work was copper RTV.
So I smeared that on the bottom edge and installed everything back together. See how well it holds up and if I get condensation or not. Its daytime so can't really see the fogs too well.
As some of you know my Lower Control Arm bushing on the pass. side was causing the seldom pop noise I got once in a while.
Here are some picts to show the difference:
Pass side: (Bad one)
Drivers side: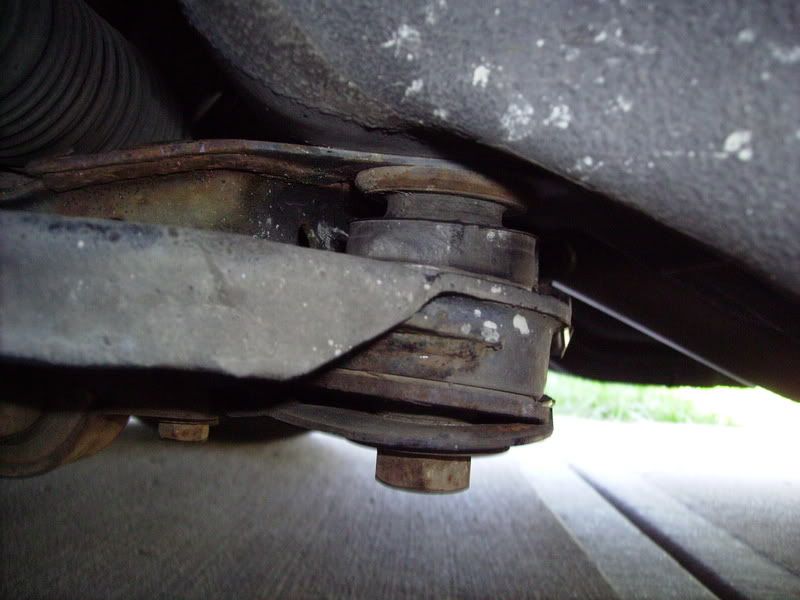 Gonna order some prothane ones from MPX in a bit.