To view the old progress log, circa May 08 - September 09
click here
.
NAVIGATION: FOR EASY ACCESS TO MAJOR POSTS/UPDATES/PICTURES
October 4th, 2009: Leave of absense.
October 7th, 2009: Not before I cover the front lip in stickers.
October 7th, 2009: More sticker-covered-lip pictures.
November 28th, 2009: End of the season pictures.

January 4th, 2010: Needs and wants.
January 15th, 2010: W1nt3r S747u$ pictures.

February 1st, 2010: We are off! Front lip ordered, and vacuum block in. New mod list for 2k10.
February 9th, 2010: Front lip is in, and INTERIOR FABRIC!.
February 11th, 2010: Front lip test fit/measurements.
February 25th, 2010: Arm rest wrapped.
February 28th, 2010: C-Pillars wrapped.

March 3rd, 2010: Headliner, B Pillars, A Pillars wrapped.
March 10th, 2010: Last pictures before paint.
March 18th, 2010: Car is delayed from going to paint due to NJ flooding.
March 21st, 2010: Fogs, delete tray, themo-tec protection ordered.

April 5th, 2010: Body work, other small things.
April 11th, 2010: Paint is tomorrow!
So the goal of this car was to build a heavily modified street car. Which IMO, is harder than building a dedicated track car or strict show car. Got some modifications in every section of the vehicle.. Spent a lot of money and couldn't finish everything up. Turbo'd it. Got some sweet wheels. Suspension is stiff as fuck.
What started like this:
Became this: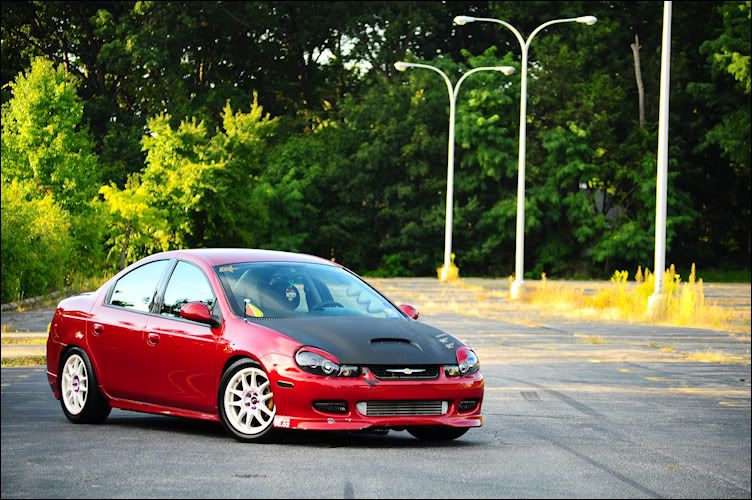 This is where Phase 2 begins. Clean up everything so that this car can hold it's own on the street, turn heads at shows and meets, and hit up the track every now and then.
Here is the current list of future modifications for this car to be completed by Carlisle 2010.
Exterior:
Front bumper and lip resprayed Blaze Red.
Grille resprayed Black w/ a white pinstripe.
Eyelids resprayed Blaze Red.
Hood painted Blaze Red.
Roof painted Black with some kind of flake/metallic.
Trunk and AVS Spoiler resprayed with keyhole delete. Might/might not be molding spoiler.
Rear bumper possibly getting a respray.
(Whole car getting a possible Blaze Red respray?)
35% Window Tint.
Rolled fenders.
Get my fogs functional, with yellow bulbs.
Misc stickers and logos..
Interior:
Interior fully wrapped in some kind of fabric, undecided on which as of yet.
Scangauge II for monitoring Engine Load, Coolant Temp and gas mileage on the fly.
Tasteful lighting, and cluster/radio LED swap.
Custom made C-Pillar strut bar. (Won't be functional.)
Rear-seat delete? Possibly. With some kind of board in the back to block off the trunk.
Suspension/Brakes:
FINALLY install my Mopar Tension Struts (Painted Gold.) I swear I'm gonna install these.
DCR Rear Control Arms.
Drop it more, dial in 2-3 degrees of negative camber all around.
Slotted Rotors + Upgraded Break Pads. (In due time of a brake replacement.)
Motor:
MPx 60mm Throttle Body, painted. *Unsure of color.*
Intake Manifold painted. *Unsure of color.*
A/C Delete (Most likely, I don't use it anyway.)
Mishimoto Radiator
80* T-Stat
Relocated Battery + OB Battery Delete Tray, painted. *Unsure of color.*
A.S. Performance Vacuum Block, painted. *Unsure of color.*
Painted Intake *Unsure of color.*
Possibly new coolant overflow? Stock seems to be working fine for now.
Downpipe Thermo-Tec wrapped.
Boost Controller to raise boost to 8 psi. *Unsure of brand.*
(Possible motor build and trip to Erick's for 350whp? Depends on cash flow.)
ENTIRELY new bay scheme, have some ideas but unsure as of yet, but I'm sure it will piss people off.
Misc:
Fender lining pulled and painted fresh black.
Underbody deep cleaned and painted black w/ some underbody protectant.
Exhaust hanger issue fixed. (Left tip hangs too low.)
NOTHING has been purchased yet, and this still won't begin for another couple weeks. I'll update this as ideas/things change, and parts are purchased.[/url]