But I finally have an SRT-4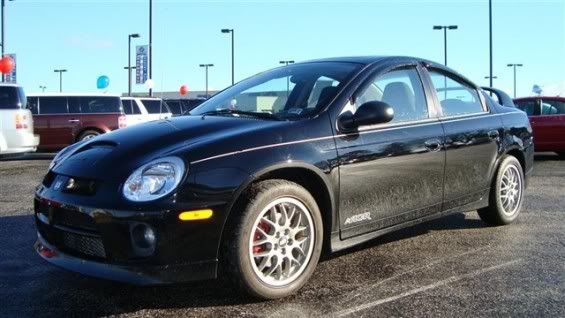 05 acr black with a roof and kicker sound
The first step was to get it back to normal by reconnecting the boost solenoids and a set of plugs. After this I drove it a lot put almost 1000mi on her in a week its been a while since I drove a car that I had trouble thinking of ways to improve. And then bang no boost and a CEL the rubber line for the WGA got down on the manifold and melted. The only vac line I had was on a Gvalve 15psi here we come. I started to notice the upper rpm boost cut more and more.
Add AGP WGA because Im suborn I ran it on PCM boost with the Gvalve this made for a very laggy and unpleasant car.
Take 2 run it per AGP's instructions and now its pretty good Im only pulling around 8psi now but its not adjusted correctly.
Now for some fresh oil oh wait the dealership stripped the drain plug
How about colder NGK plugs (boy it feels weird not putting champs in a neon)
(An engine bay shot belongs here but I dont have one)
Autocross this weekend on 80000mi KDWs and 80000mi Illuminas this should be a fun ride.