To change the control arm bushings is not tooo heavy at all. Very helpful are a lifting platform, bench vice, one impact screwdriver and 3 hours time. Special tool is not needed.
1. buy bushings. In the picture PU-bushings for the PT Cruiser
Front end jack up and
remove front wheels
Then remove the anti-roll bar. That is relatively simple...
We began on the driver's side. Screw from rear bushing remove. Those is at least 20" long and sticks much, like all the others also…
front screw remove
remove 3rd screw (behind the brake)
and in such a way the part looks then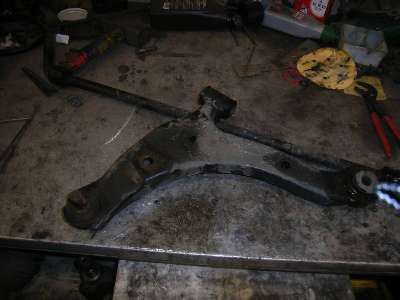 Now it becomes excitingly: The old bushings must be removed. We squeezed the bushings out with the help of a bench vice.
Now the old rubber bushes must be removed from the metal bush. We burned that rubber things down
and then the remainders with a knife removed.
The new bushings can be pressed in then completely easily with a bench vice
and in such a way the whole looks then with new bushings
Installation completely simply in reverse order.
Next the passenger side. There one of the screws for the control arm hides itself BEHIND the lower engine mounting .
this must be removed thus
The rest is here exactly the same as on the driver's side. To assemble the joint must be the control arm pressed downward with a as long as possible lever.
And thus the whole would be finished...
A view into our garage
Thank you at Martin for the large assistance!!!
Please excuse my google-english...