ok, this is not a project log but it is at the same time. it is not finished but i will post new pictures day by day and once its done you can just look thru here and read how to do it. i will be doing my front doors but not right now, that wont be a how too. after this door is done i will update my WINTER PROJECT (fusion) project log. oh and i will describ it like i would want to read it. so lets get too it.
(picture 1) this is everything you will need to make ur fiberglass.
1.any type of resin, they say some brands are better then others but iv come to learn if you use the whole can within a week its just as good as any other brand, i use walmart brand. oh and buy a extra liquid hardner tube, they never give you enough.
2. two mixing cups with 2 brushes you have to use a new brush with every time you use resin, cuz it hardens up and you cant reuse the brush.
3.cheap semi strechy fabric, not too strechy but get somethin that will strech a little.
4. chop matt this is what makes it strong.
5. BONDO GLASS your best friend, it has fiberglass strans in it. better then bondo this is also the strong point.
6.any type of body filler i have bondo brand but i have some left over so im gonna use it. i prefer z grip
7. staple gun the more powerful the better, air is the best but as u can see i bought a 10 dollar one that will do fine for this application. im using 5/16th staples.
8. sand paper and somethin to sand with like a 6" block. the laquer thinner is just to clean ur stuff, like ur plastic applicator.
9. the commpressor is for my air brush gun not a DA, i dont advice using this on such a small piece. also if i leave anything out ill be sure and add it as i go along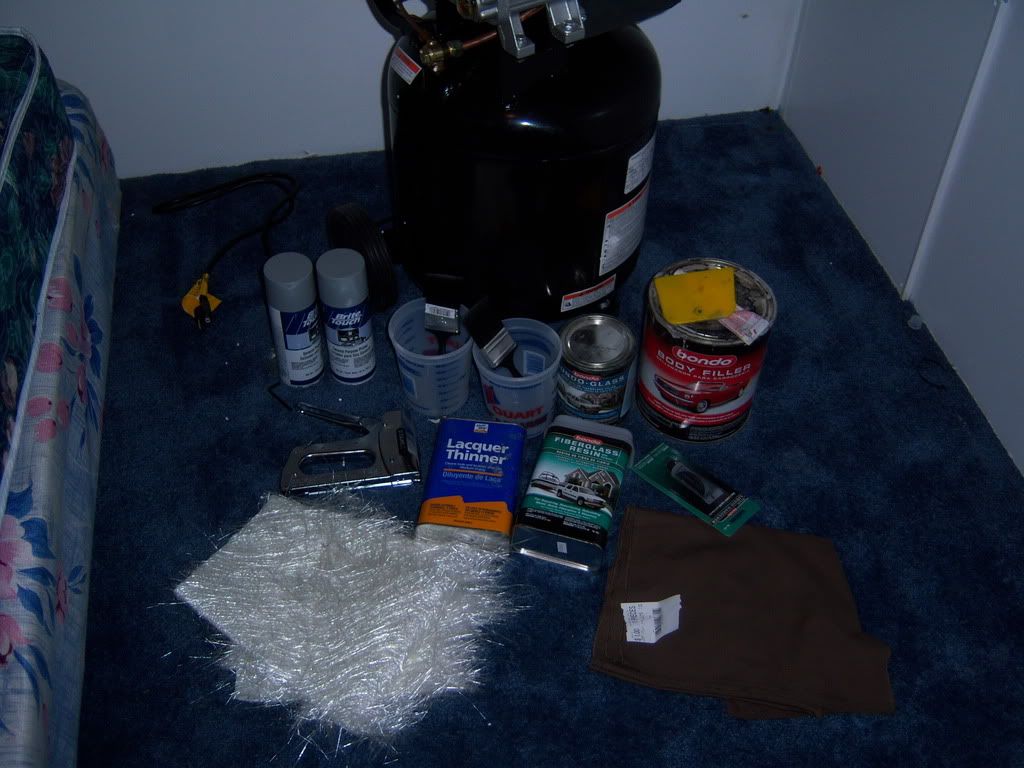 ok here is where i left off on my WINTER PROJECT(fusion) all i did was melt the 2 plastics together. and this is what i will be fiberglassing.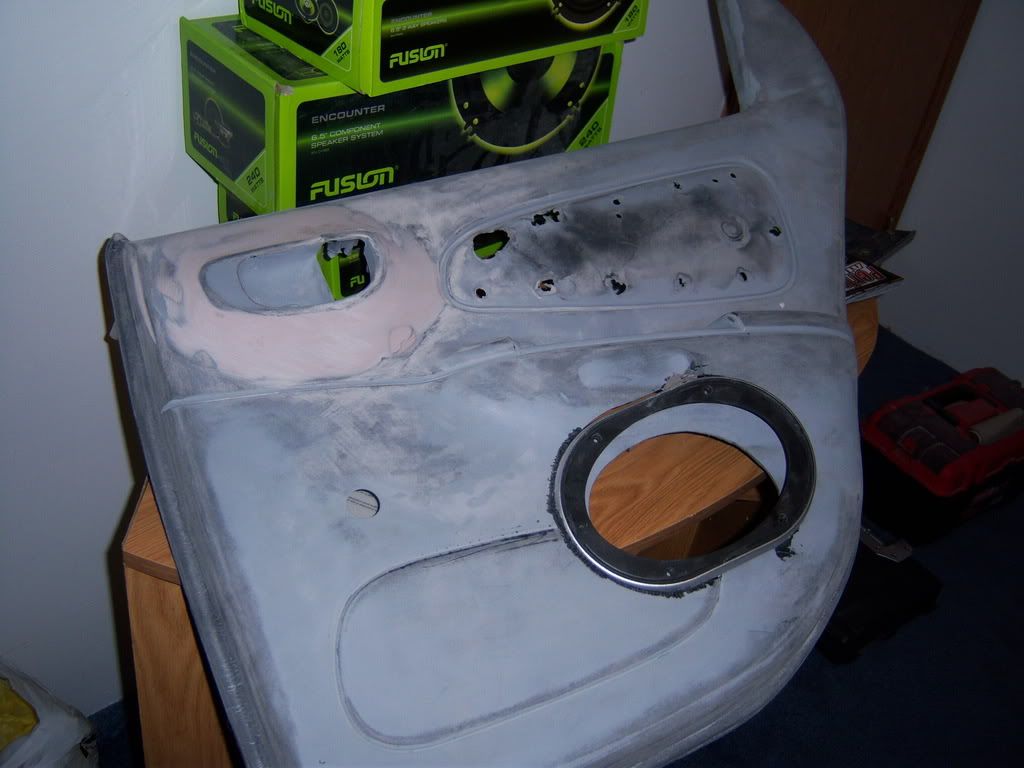 here i lay out the cheap fabric across the entire panel, i got a yard just to start out, if i need more it was only a 1$.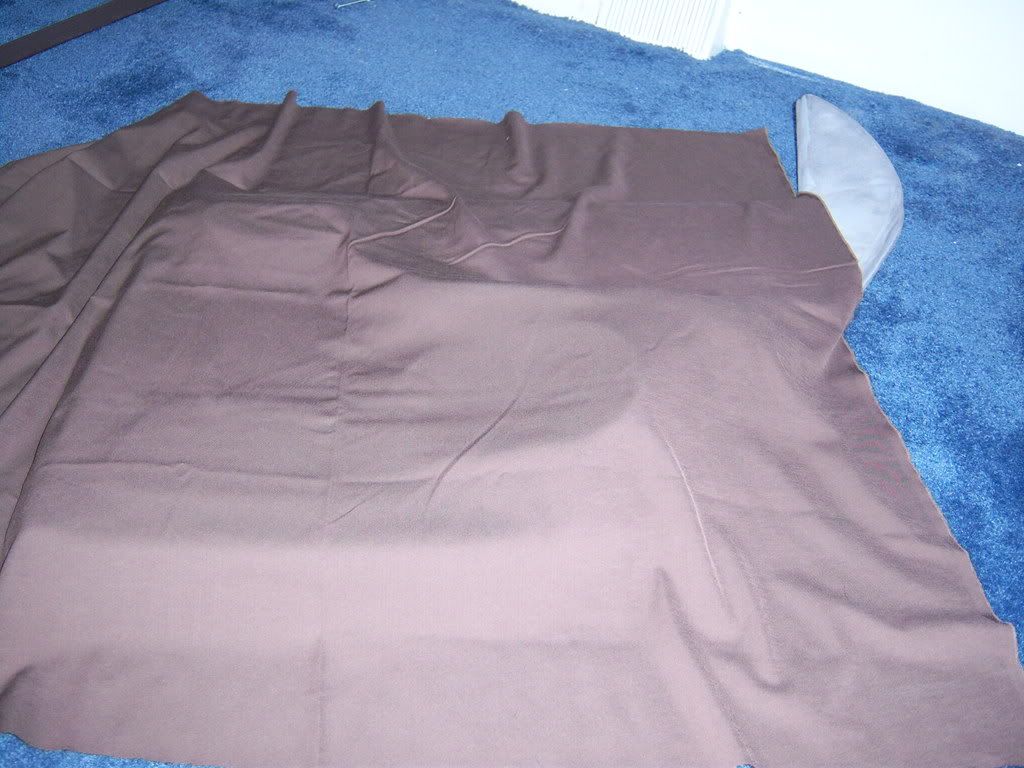 here i begin to use my stable gun and staple on the bottom lip and work my way to the right, making sure its straight and NO RINKELS.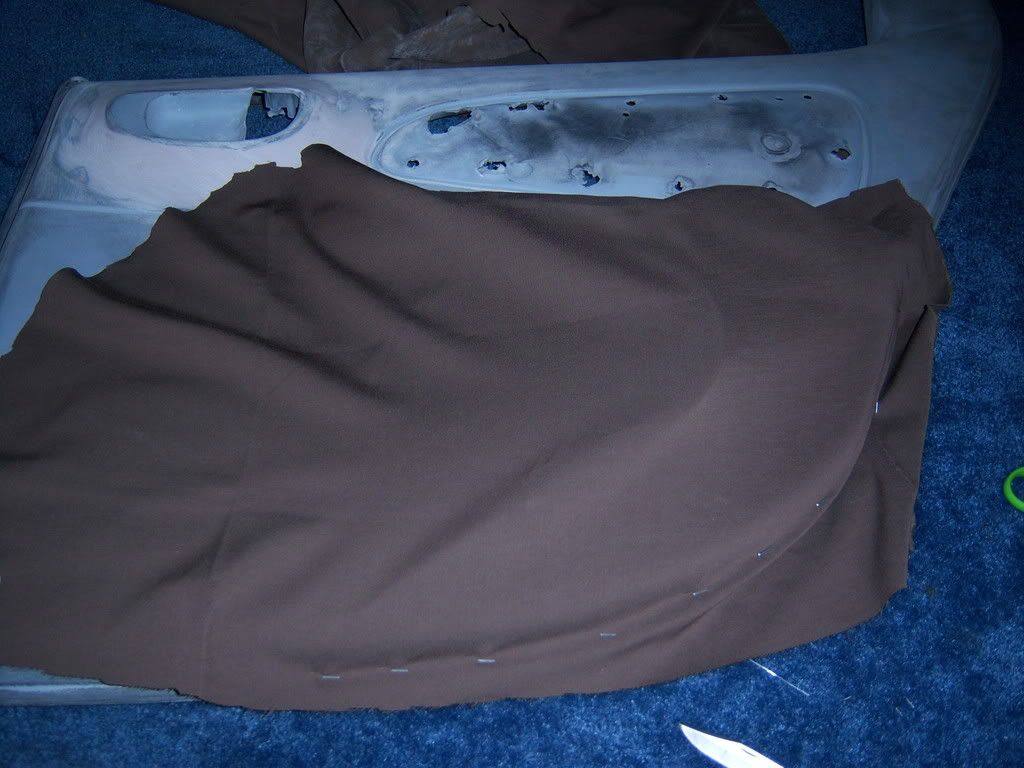 once i got a good start i cut off the excess fabric i got to the middle line i put one staple at the top to hold it and i can pull slightly and a little taught to get all rinkels out.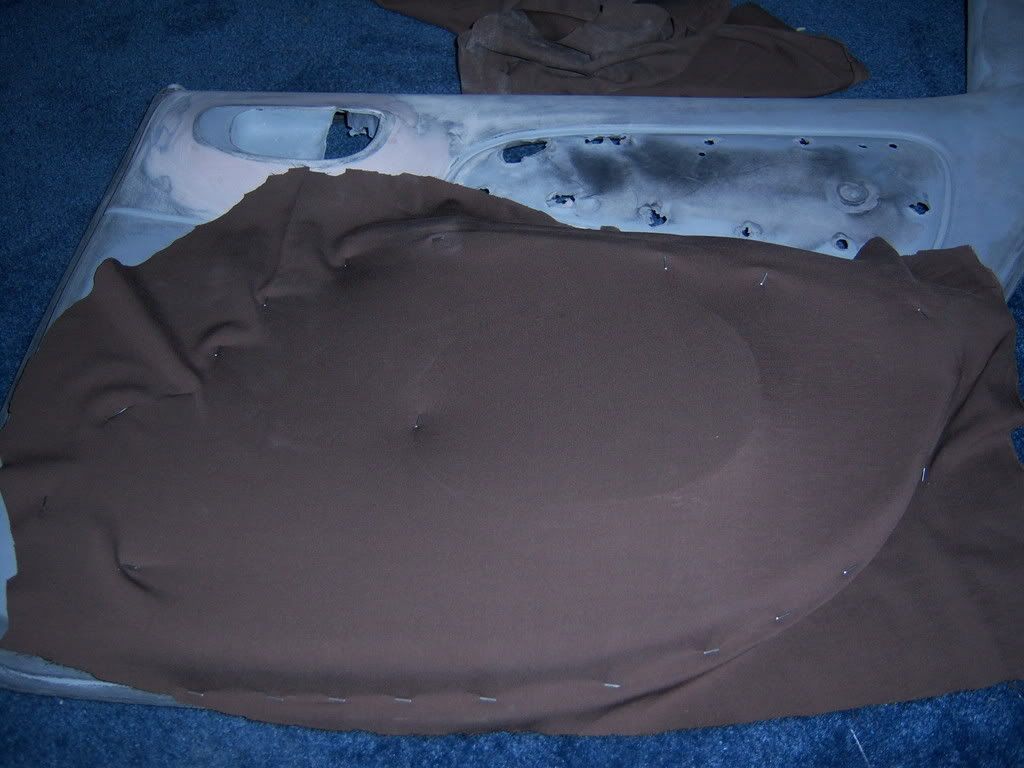 here i have staples around the whole area that is goint to be fiberglassed, i put one staple in the center so i know where the speaker ring starts. and once again i cuz the execess around the staples off.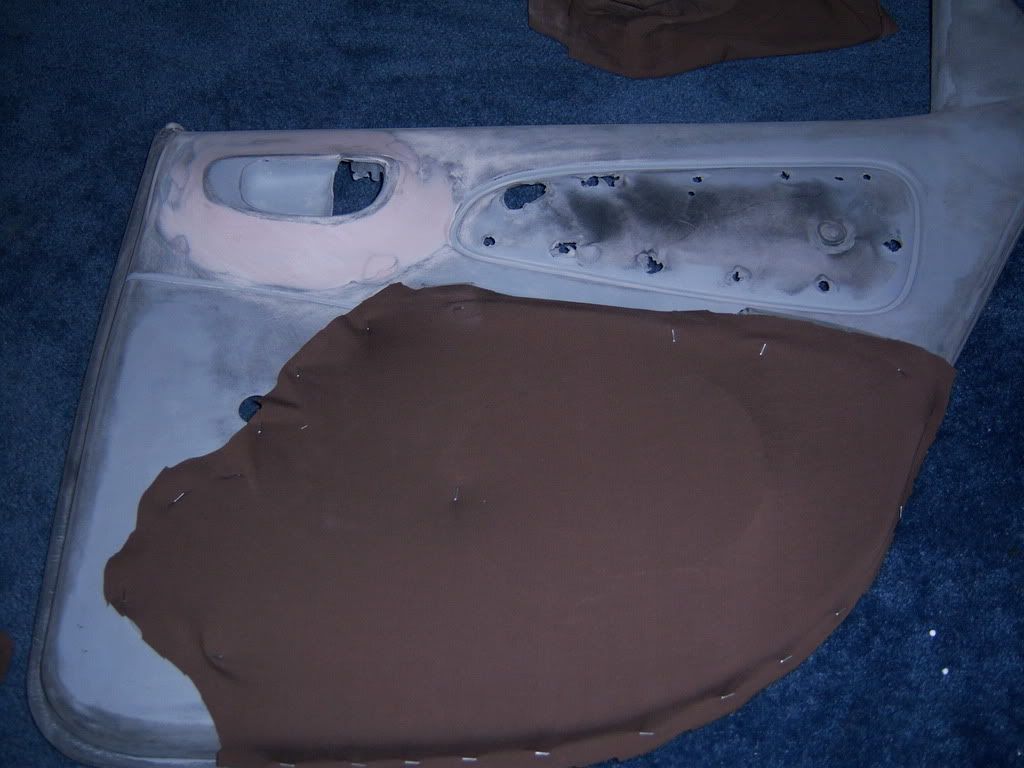 Ok day 2 on this how To
what i did today was mixed up some resin and put it on in a medium coat, make sure the entire fabric is soaked in resgin. then let dry for about 30 min or more.
next step is still part of the previous picture what i did here was while the first layer of resgin is drying i took some chop mat and sprinkled it over the entire pannel very little, next layer will get more. you dont have to do this but it just helps make is stronger.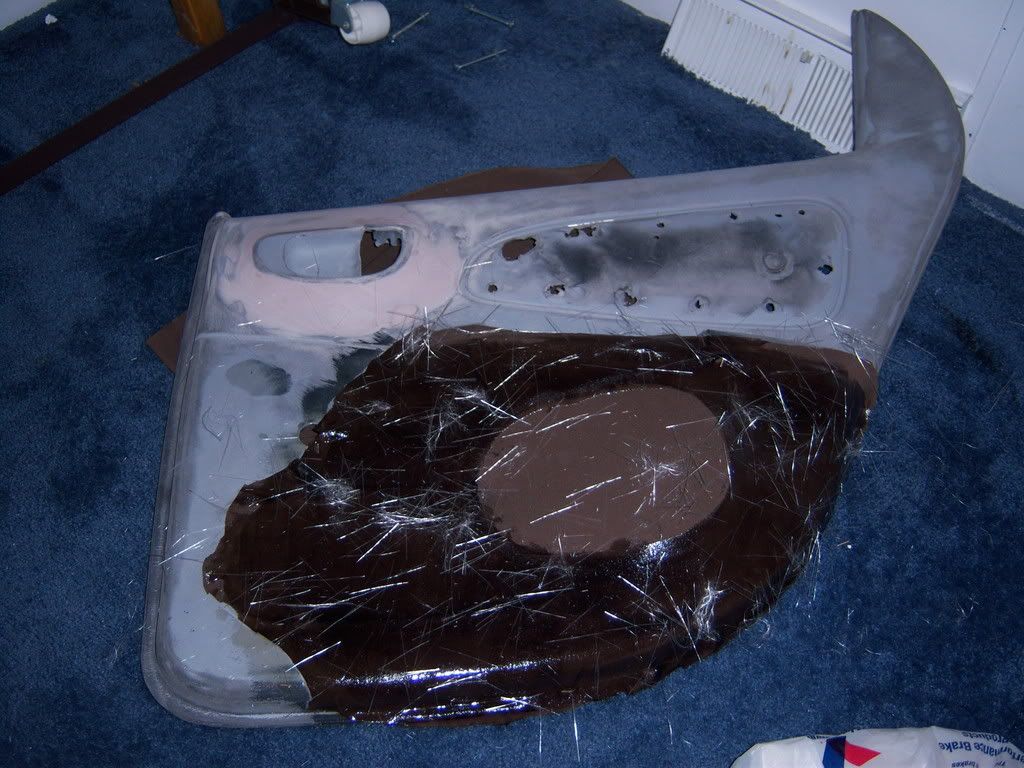 what i did in this step was tear some chop mat up in to small medium and larg pieces, put another coat of resin on the piece, but instead of just putting it every where use a tapping motion. tap some resin in one spot just a little spot, put a piece of chop mat on the resin then soak the brush in resgin then cover the piece of chop mat. keep in mind the tapping is to tap out air pockets or bubbles. once the whole entire piece is coverd put more pieces in the spots that are going to flex the most.
this picture is what it should look like once the chop mat is coverint the entire fabric. i will put one more coat if it is not strong enough. if this was holding the actual speaker i would make it about 4 layers thick.
More pictures tommorow. keep checkin bak for the finished product. and how too.