So I changed my HVAC lights to blue and it didn't seem bright enough to me. There were a few dark spots that I wanted to get rid of. Well I saw sxxxt added leds to it so I set out to do it and ended up with a How-To.
If you are not familiar with soldering or led's I would not try this.
I am not responsible for anything you do to your assembly as it can be broken...
Item's Needed:
- 4 Non-Wired LEDS. I chose to use 3mm but 5mm would work too.
- Some small wire. 20 Gauge at the biggest. Smaller is neater and easier.
- Hot Glue Gun
- Soldering iron and some solder
- Should have some shrink-rap but you can get away without it.
Step 1:
Remove the HVAC from your car and get it somewhere to work on.
Use MoparNeonMan's tut
here
if you are unsure how to do this.
Step 2:
Drill 4 holes to fit your led's into. I drilled mine here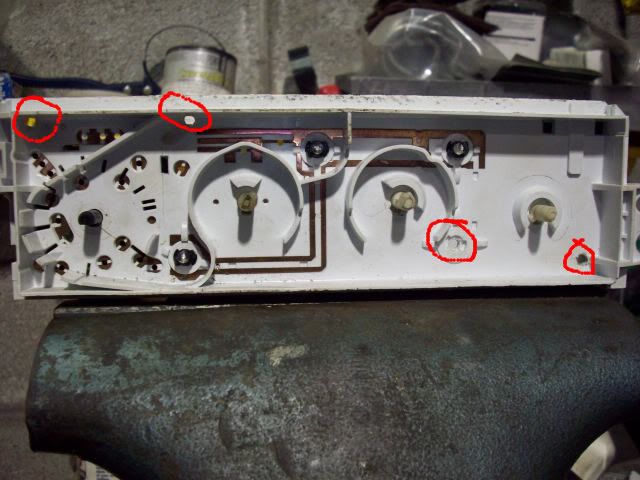 Step 3:
Solder separate wires onto positive and negative leads your first led.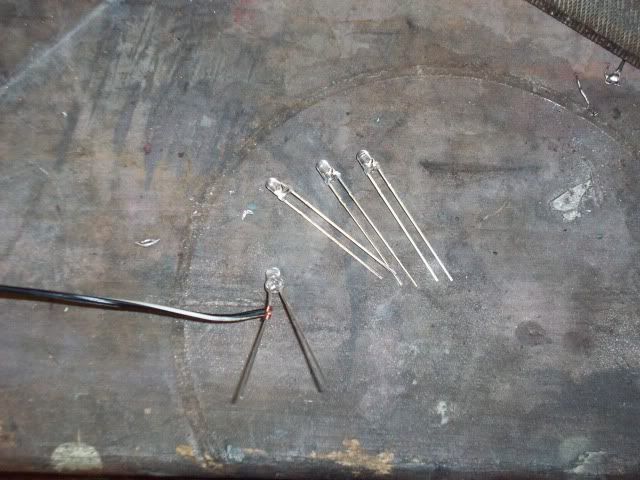 You are going to wire your resisters in a series. Doing this with 4 led's has a recommendation of a 1 ohm resistor but I didn't use one... Here is a diagram that shows you how to wire the led's in a series.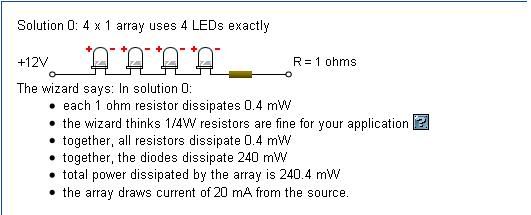 I wired one led at a time. I wired it up and then glued it into the assembly. Make sure you have enough wire soldered on to reach the next led.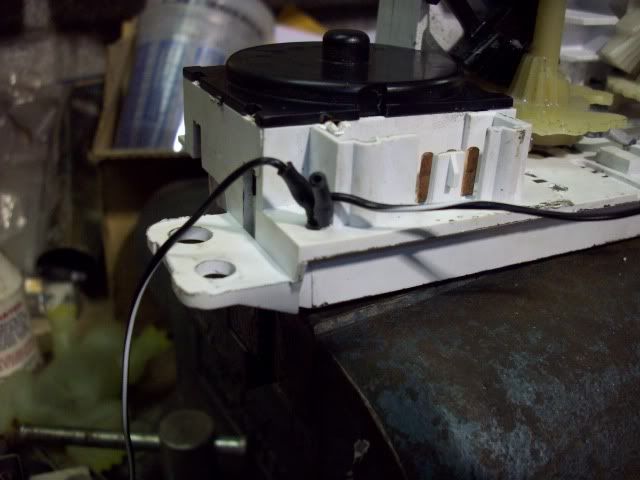 So now that you have your first led in place like in the picture above use your glue gun and glue it there.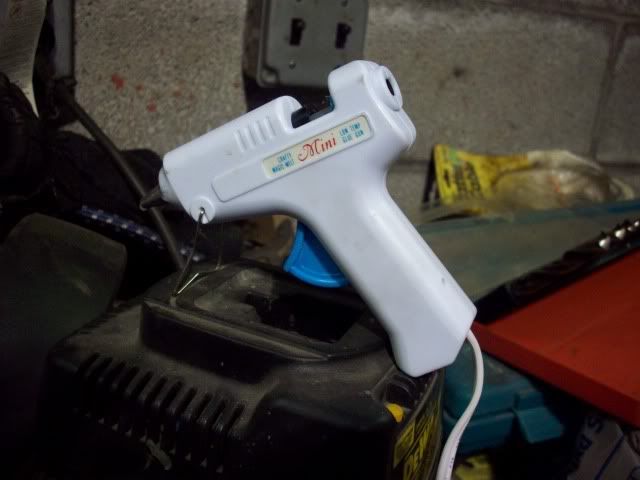 .
Do that for each led making sure to keep your wires neat and out of the way.
Here I have 3 led's done.
Here is how I ran my wire for the 4th light.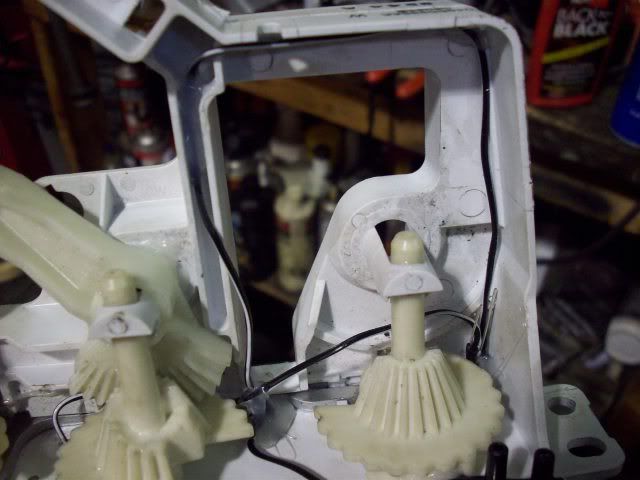 With all your wires and led's in place it should look like this.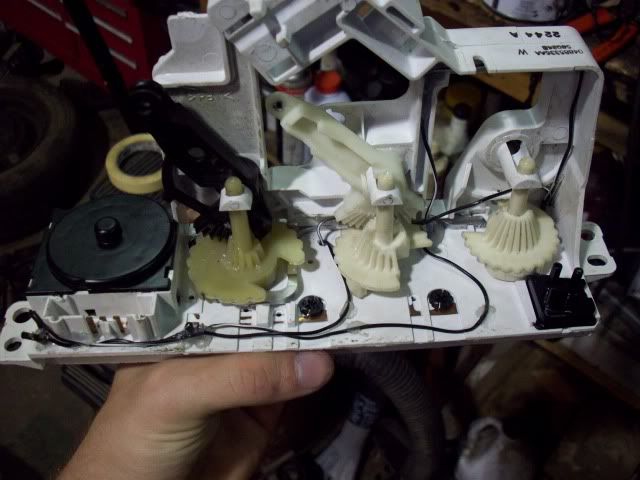 Step 4:
Now you have to power the led's. You can find a 12v source from somewhere else and turn them on separately, but I wanted them to work like normal so I wired them into the HVAC.
First you need to find a place to run the wires through to get them to the other side of the HVAC. I drilled a hole here.
Now run the positive wire from the first led's you glued in, and the negative wire from the last led's you glued in into that whole.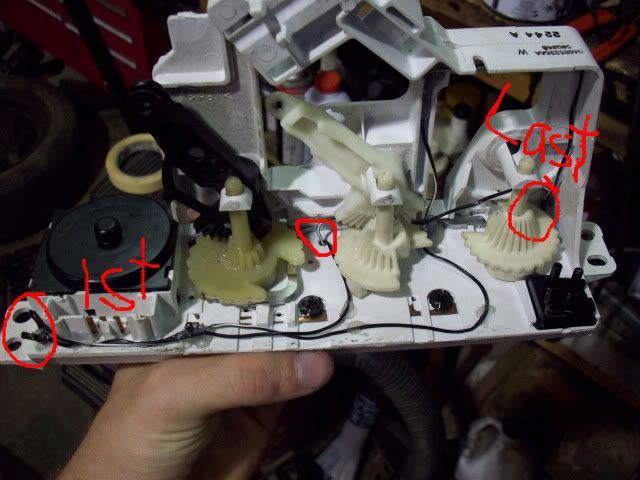 Step 5:
Now comes the hard part. Soldering your wire onto the traces that already powers your stock lights. The top trace is your ground and your bottom trace is your power. Solder your wire from your last led to the top (Ground) trace. Then solder the wire from the first led to the bottom (Power) trace.

I hard a really hard time getting the solder to stick. I cleaned the trace up with 2000 gritt sandpaper and they both barely stuck and then I glued them down to make sure they didn't come off. This can be very tricky to do this and get them to keep contact so be patient and careful. Here is my messy trace job after solder and glue.
And here is the final thing! I just got it done today so I'll take some pics of it all together tonight.
Camera is pretty suck so not a good pic. But it's a little bit brighter. They aren't as light blue as the picture makes them look. The two on the left made the left side a good bit brighter, two on right side didn't do much but I'm happy with how it came out.
If anyone has any questions or see anything wrong feel free to let me know.
Also if there is a reason the 1 ohm resistor should be used or if there is an easier way to get it soldered to the trace let me know.