Hey guys, I've been having this problem with my 02 SE mtx. It has occurred ever since the car was restored, before I put on the CAI. I now have a tach cluster so I can diagnose the problem better.
Basically, when the car is moving above 15mph and I take it out of gear the rpm shoot up or drop down to 2k. this seems a bit high to me for an idling rpm. I was expecting more about 1k which is what it idles at while stationary.
I've already tried testing for vacuum leaks by spraying degreaser on the hoses while the engine is running and looking for rpm changes. Is there a specific area I shoulda been looking for b/c I didnt find anything?
Any other suggestions would be greatly appreciated.
UPDATED late summer:
Ok so I replaced the IAC sensor. The part from eBay was of great quality. Here is a pic showing both next to each other.
This, however, didn't quite fix my problem. Its seems that sometimes my idle will be at 1600 now and other times its back to 2000.
Keep in mind this is all while the car is moving more than 5mph. Maybe I just need to allow more time for the pcm to reset itself I dunno.
I did notice that on the throttle body I did have the "tube" mentioned in the below post w/o a cap on it. This however, is before the throttle plate so there shouldn't be any vacuum lose. I'm gunna tape it up to be on the safe side.
http://forum.2gn.org/viewtopic.php?t=25 ... e+body+cap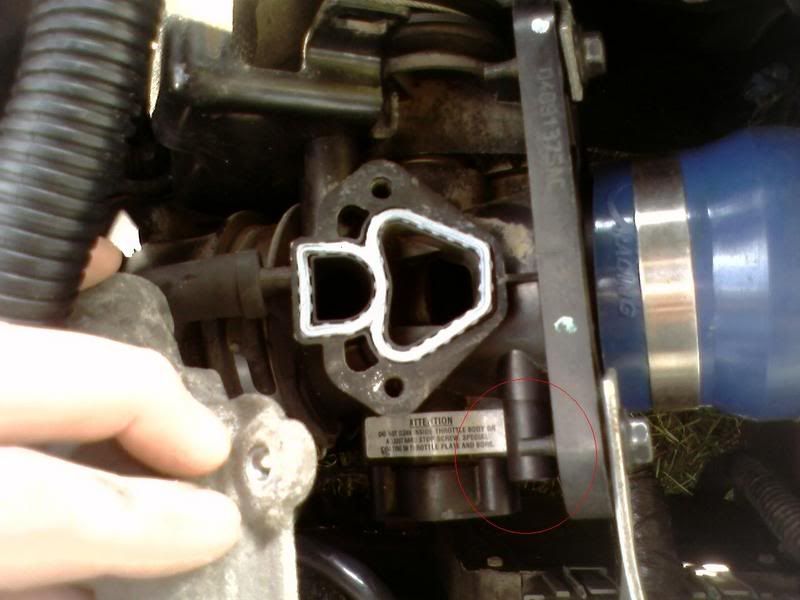 The tube is to the right of that sticker.
Also, I've attempted to get the codes to come on my odometer, keep in mind I'm not throwing a CEL. I haven't had any luck so far, and it hasn't shown a "done" either.
Anymore ideas would be appreciated. I'm thinking about just getting a replacment 60mm TB.
UPDATED: 10-19-07
A while ago, when I was changing my spark plugs, I noticed that I had a lot of oil on the third plug wire and top of the plug.
I realize from using the search button
that this means I need new spark plug gaskets, which come with the valve cover set.
So I thought "hey what a perfect excuse to buy a Mancini powder coated VC." I know the gasket is what is wrong here, but do you think the faulty gasket could be causing my vacuum problems?
UPDATED 12-10-07
Could this be caused by an improper reading from my TPS? I also remember reading a post about someone having rpm issues over a weak spring in there throttle body.
I've noticed some interior parts are vibrating now more in the cold @ around 2K RPM, so this is really getting annoying. I've kinda put off looking for vacuum leaks since its so cold out, my last thing to check is the intake manifold and in the rear of the engine. :-/