I figured since there was not a lot of info out there on doing a Steering Wheel change, I'd take pictures and do a comprehensive How-To on it. Like the title says, this is for aftermarket steering wheels only. I do not know how to get a PT wheel to fit, and there is already a thread somewhere on how to get an 03+ into 00-02 cars. This was done on a 2001 Neon. This also includes a guide on how to wire up the Horn for this particular car.
Tools Needed: Phillips and flathead screwdriver, Socket wrench, 8mm socket, 13mm socket, Short extension. Steering Wheel Puller (optional). A couple of Allen wrenches or Hex bits for the new wheel (if they didn't come with the hub or quick release). I needed a 5mm and a 3mm, but yours may vary. Extra wire and some quick connects. Pair of wire strippers. Electrical Tape.
First, figure out what kind of Steering wheel you want to put on there. For now, I have a "JDM" steering wheel that looks like one of the Momo wheels. I have an OMP and a Sparco wheel on their way to me as this is written. There is quite a bit of background as to what adapter to use.
Okay, there's quite a bit of info surrounding this part. Depending on the bolt pattern on the aftermarket wheel you are going to use will determine what type of adapter you will need. If yours is the typical Momo/Sparco 6-bolt (2.75in or 70mm hole diameter, center to center of screw holes)), then you need a Momo Adapter or something similar. If you have the slightly Larger Nardi bolt pattern, or the Grant 5-screw pattern, you will need an adapter or universal screw pattern that fits your application. The Momo adapter part number is 2401 for the Neon. However, I didn't like the look and was thinking about purchasing an Isotta adapter (same as Momo, but prettier) which is part number BX 5420C. That sucker costs about $130 though. What I noticed is that the types of cars the 2401 and 5420C fit varied from Jeeps to older GM cars and such. I took a chance and I looked around for cheaper alternatives and found some on eBay. Basically if it fits the older GM/Jeep hubs, it can fit the Neon. I bought my hub adapter off eBay for about $40, and it fits Grant 5-hole and Momo 6-hole only. Although the Quick release (another $40) bottom half fits only Momo 6-hole, but the top half fits both Momo and Nardi 6-hole patterns.
Be warned though, in addition to you airbag light going on, you WILL need an extender of sorts (or a spaced out/deep dish wheel) or else the wiper and turn stalks will be too close to the wheel. I am spacing mine out with a Quick-Release adapter kit. This may be where a random "Telescoping" adapter helps (but that only fits certain Grant Wheels), but I'd rather do a quick release or buy an extender hub. You might also lose the ability of the turn signals to turn themselves off. I think this function it is built into the clockspring (which must be removed). I also believe you will lose the ability to lock the wheel without the key in when turned too far. I am not sure why, but I think it has something to do with the clockspring again. I lost all these functions when I installed my wheel. And if you don't know, use a resistor to jumper the airbag switch to turn off that light. Note: the function that turns off the signal is a simple lever piece that clicks off the turn signal when you turn the wheel. If I have time I'll go back and try to make something to fit to regain that function, but for now, I just turn it off manually.
Now that you decided on what you want to use, let's get to work. First you need to remove the old steering wheel.
First take off the Cruise Control buttons (if so equipped) using a Phillips screwdriver:
After that, remove the wiring clips from the buttons. I used a flathead when removing all clips, as it lessens the chance of the clip breaking. Then, using the 8mm Socket, unscrew the bolts on each side holding the airbag in place: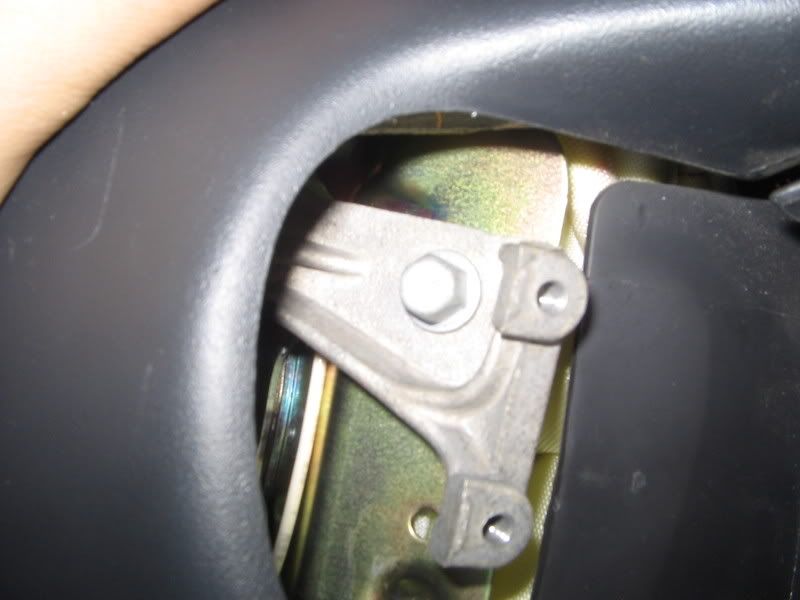 You should now be able to easily pull the airbag out. I removed the wired on the back by slightly turning the clip clockwise and pulling it out. However, I believe it broke something. If someone has better experience in this area, let me know.
Anyhow, you should be able to see the center hub. Take the 13mm socket wrench and extension and unscrew the center bolt holding the wheel on. At this point you can use a steering wheel puller, but I just gave it a few tugs and wiggled the wheel left and right and it popped off. Be careful you don't hit yourself in the face or rip any wires when doing this.
Now you have to remove the clockspring. First remove the column trim by using your phillips to unscrew the 2 screws holding the trim together. The screws are located on the bottom side of the column, down very deep holes. You should be looking at this when it's all said and done: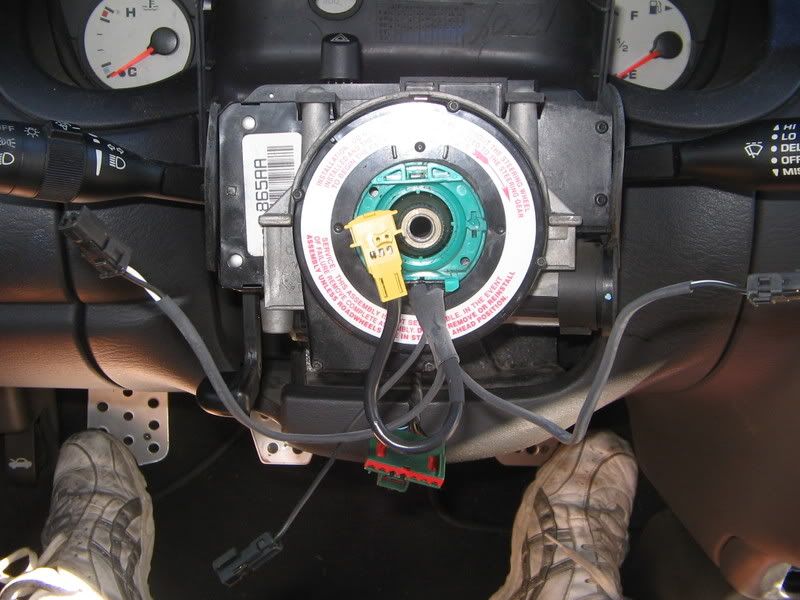 The clock spring is held in by 2 small plastic clips built into the assembly at the top and bottom of the unit. Use a flat head to carefully pry the clips up and remove the clockspring. The electrical connector on the bottom left is a special type. You need to push or pull the red piece so you can unclip the connector. It should look like this after you remove the clockspring: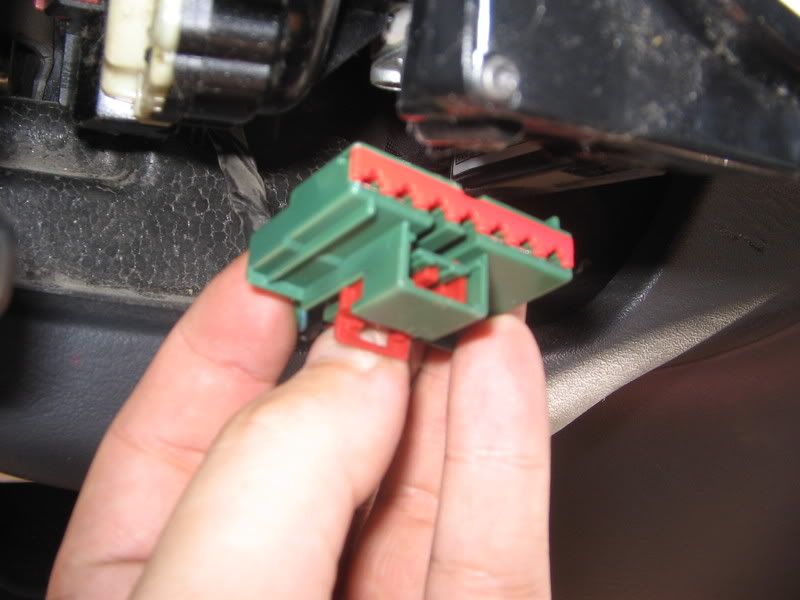 Now you should be looking at this: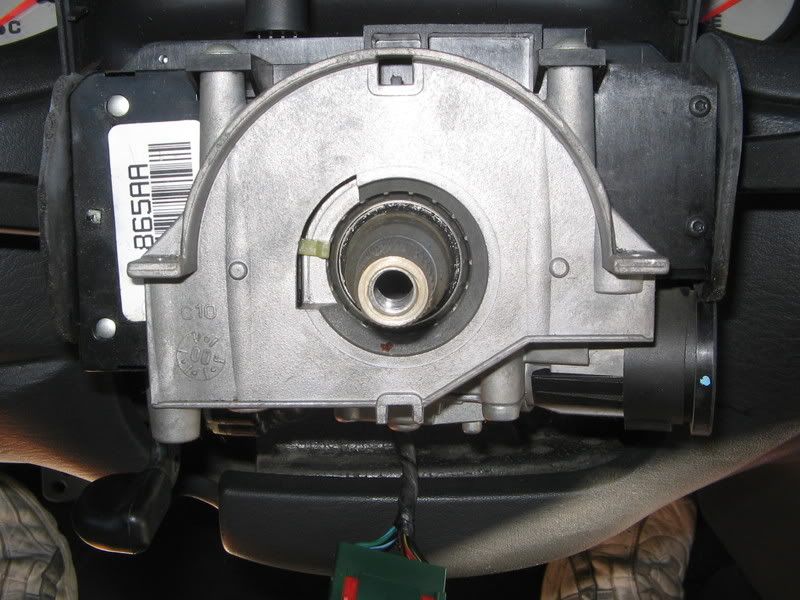 Notice the small little piece of plastic directly to the left of the hub. That's the turn signal stalk cancel lever.
Turn your focus to wiring up the horn. Go back to the wiring harness from the clockspring. I simply used a quick-connect available at Wal-Mart and some wires to wire it up. The way the horn works is there is a power and there is a ground. The power wire is (counting from left to right) the third wire on the harness and is very thin: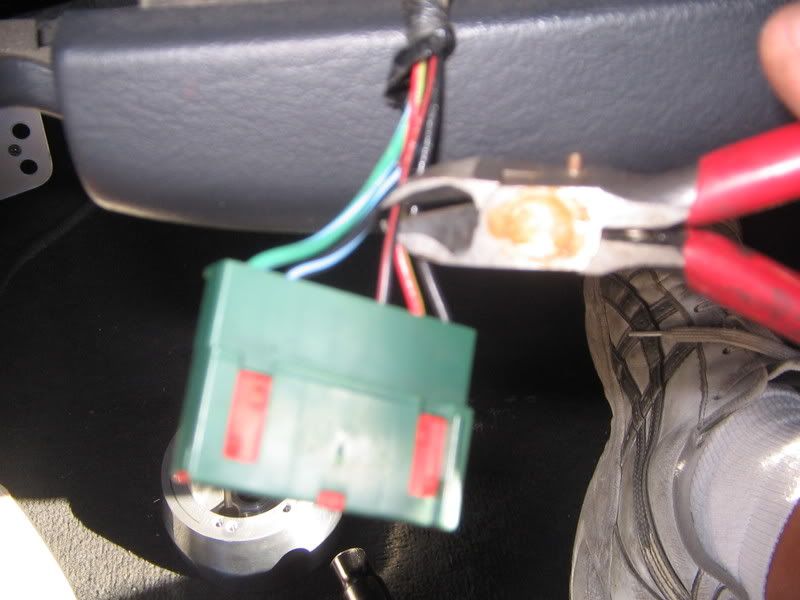 And I used this type of quick connect to splice into it:
The ground wire is the last thin wire on the harness. You can see the other quick connector already hooked up: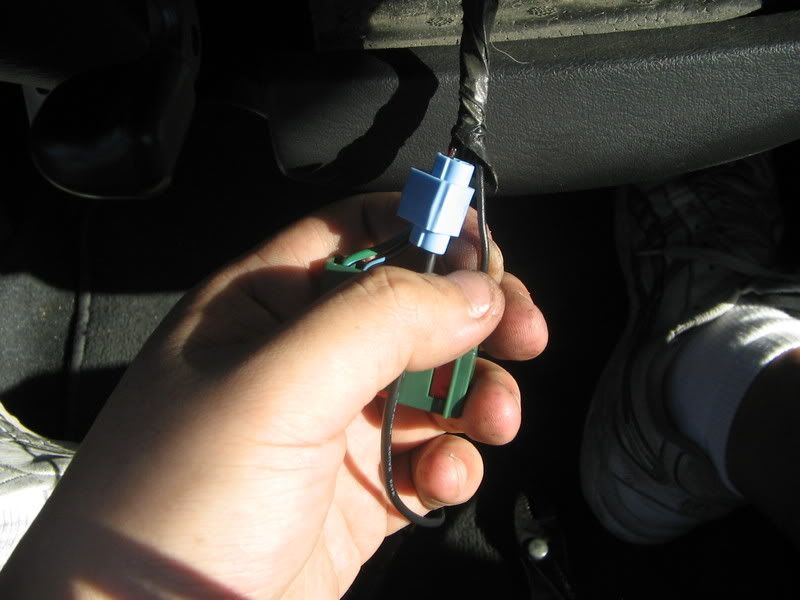 Remember to use fairly long lengths of wire. You don't want it getting pulled or twisted too far underneath the hub. Once wired up, test to see if the horn works. Then pull the wires through the hub adapter you are using and bolt the hub adapter down using the 13mm socket wrench and screw the column cover pieces back on:
Take note of which wire is power and which is ground. In my case, my quick release adapter had a power and ground wire built into it: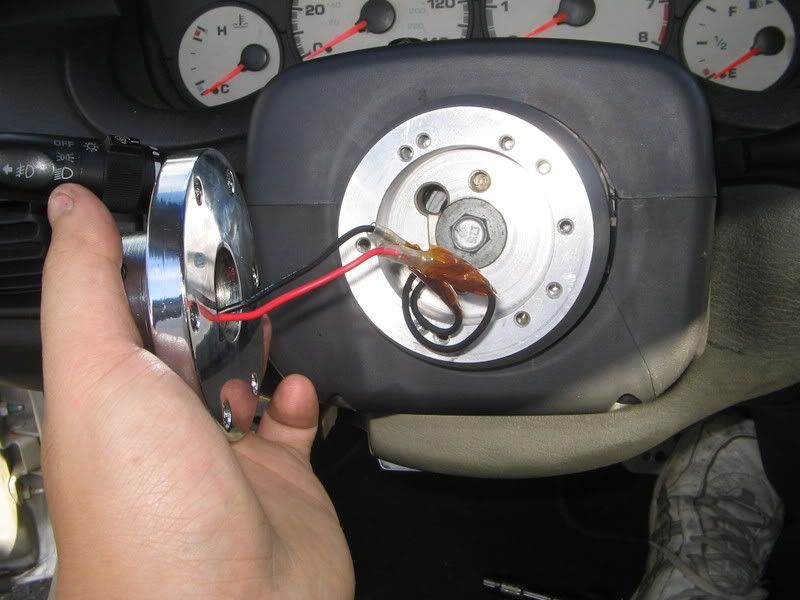 I then bolted the quick release adapter on using hex keys. I had a bit of bad luck here, and stripped on of the threads on my hub adapter. It still sits fine, but the bolt is a bit loose. I doubt it will be an issue. I may go back an re-tap the holes, but doubt I will need to.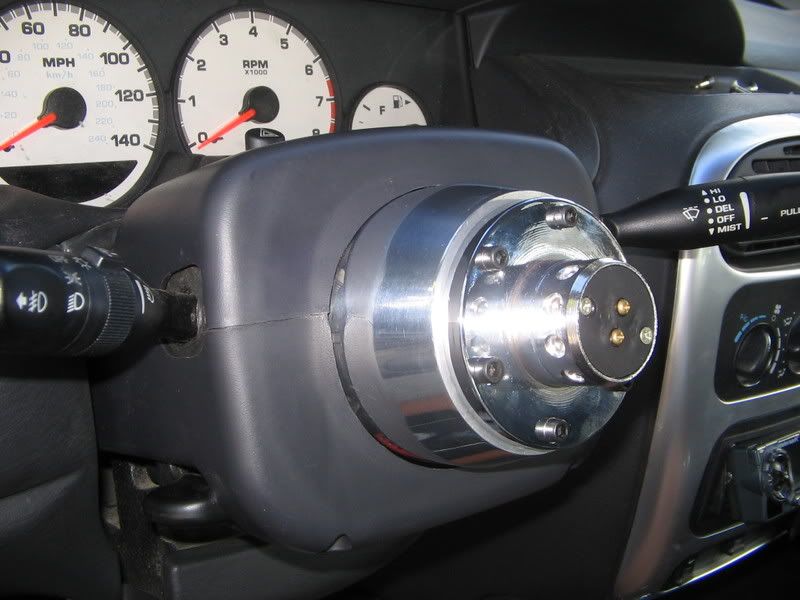 Now bolt on your wheel of choice to the hub adapter. I used a star pattern (like you lug nuts) to lessen the chance of it coming loose, although if it was coming loose I think you'd know pretty quickly: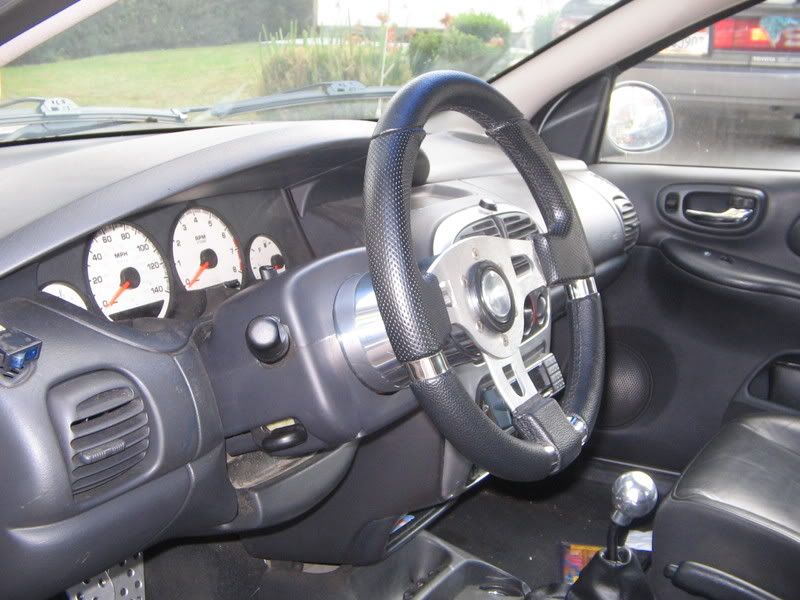 That's it, you're done. If you jumper the airbag light (with I think a 2Ohm resistor) you might need to do it at the harness or in the fusebox. There is a thread around here that has to do with that. If you have any questions, let me know.