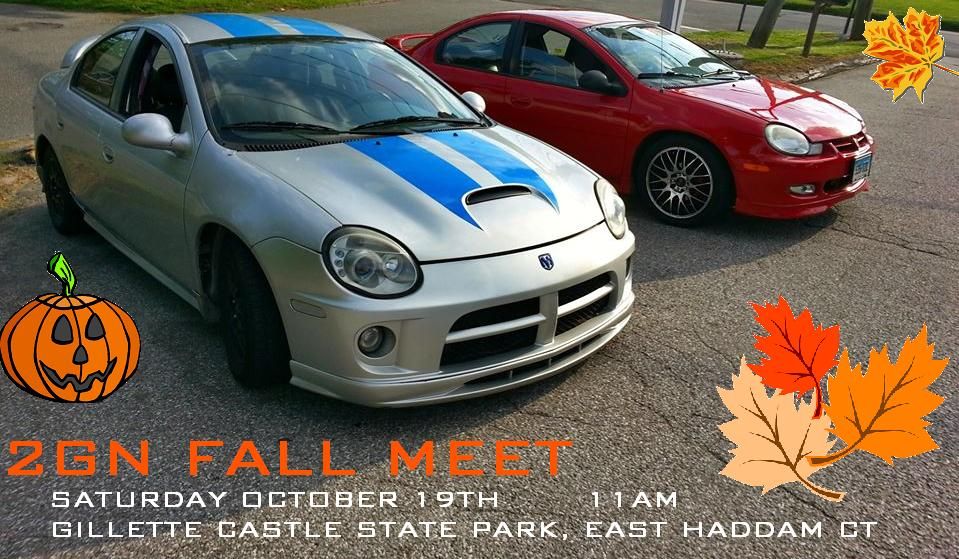 Location: Gillette Castle State Park. 67 River Rd, East Haddam CT 06423
Date : Saturday October 19th
Time : 11am til whenever
Confirmed Attendee's :
-Slaw and Karli
-Caraudioholic24
-v793jt0
-Ragek23
-Asanti
-jonnymopar
-r34neon01
-Nate M. (fb)
-Jr R. (fb)
-Justin R. (fb)
-Mike M (fb)
-Andreau D (fb)
-Tyler


What people are bringing

- Hot Dogs, Burgers, Buns ( Caraudioholic24 )
-Grill, Grill Tools, Charcoal, Lighter Fluid ( Slaw )
- Bottled Water, Paper Plates, Napkins, Forks and Knives (Jr. R)
- Chips and Dip (v793jt0)
- Sodas (Asanti)
-Condiments,cheese (tyler)


I've sent out alot of PM's and saw alot of intrest in this event (as well as posting in the FB 2gn page and a local CT SRT FB page) however there was quite a bit of "maybe" or "most likely" responses. If you plan on going please let me know and i can update the list with who's going and who's bringing what
as always the plan is meet & greet, picnic, pictures, etc. please plan on bringing something to contribute to the food (soda, chips, condiments, cheese, etc). We'll be doing hotdogs and hamburgers on the grill
As always: don't be stupid. No reving, burnouts, street racing, etc.
Also, for anyone that wants to bring friends, we will gladly accept them. Neon or no Neon
More information about the state park can be seen below
http://www.ct.gov/deep/cwp/view.asp?a=2 ... v_GID=1650
I look forward to seeing everyone on the 19th!