What you need
- 1 campbell hausfield water filter for a compressed air system ~$12, available at walmart, autozone and probably anywhere that sells air compressor parts
- 2 of these, cant think of a good name for them but i think you know what im talking about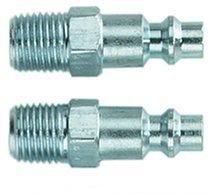 - 4 feet of 3/8" fuel line
- 4 feet of 1/2" heater hose
- now the special part: a piece of thin stainless (or aluminum or regular steel) steel.
- a tap (measure the id of the holes on then base your tap size on that)
- a small drill
- a little bit of loctite so you dont have to tighten the screws up too much and risk stripping the threads in the hole. i actually did a little bit on one hole but i put some loctite in there and its been good for ~15000 miles.
- teflon tape for the threads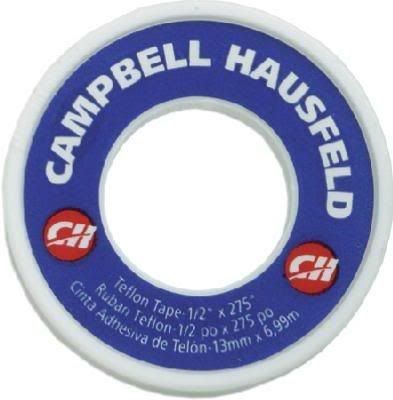 - a few zip ties to keep the hose in place
- 4 small hose clamps
i think the following pics will tell the rest of the story. its really quite simple. you dont have to run it so long but it is the nicest looking way, in my opinion.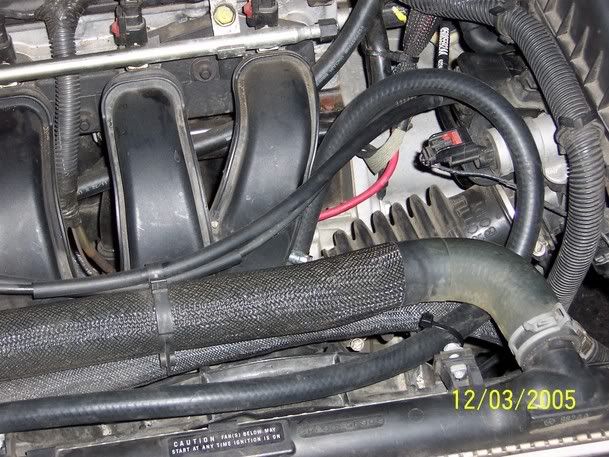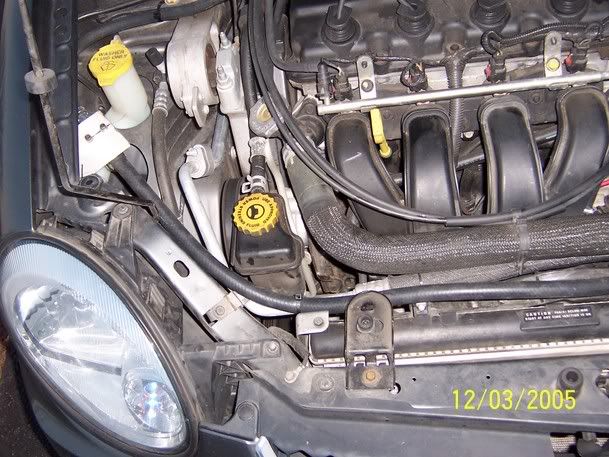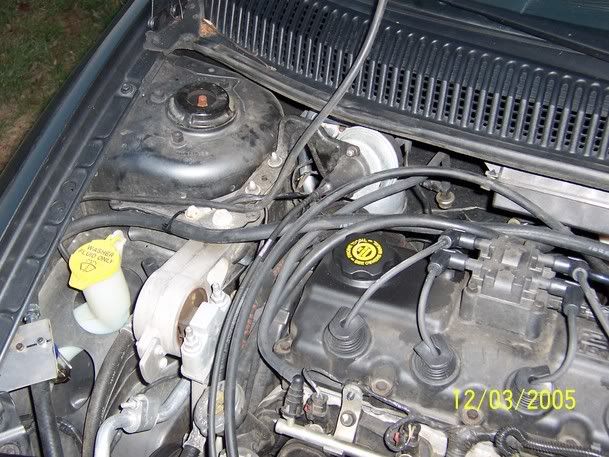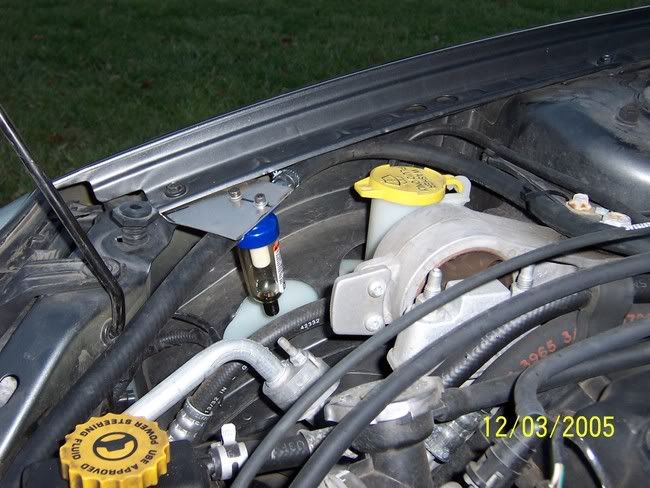 as far as i know, no one else does it this way. most probably dont have the tools to do it.
you can tell which bolt to pull out to mount the piece of stainless in the last pic.
here is a pic of what the piece of stainless looks like when finished.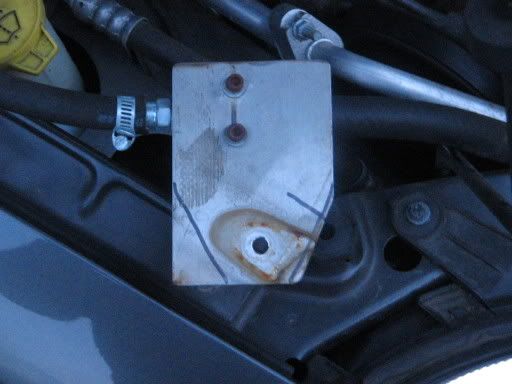 one more pic of the mounting (sorry its a little blurry)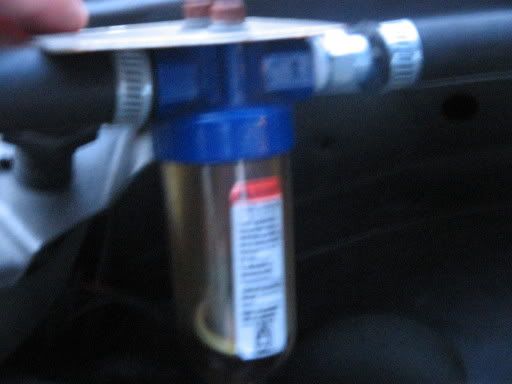 i keep the original pcv hose and a screw driver in the trunk of my car just incase something goes wrong with this setup, but nothing has happened in ~15000 miles, i just like to be prepared.
dont worry about the new hoses not being for vacuum, i was a little worried at first but i have not had a problem with the hose collapsing under vacuum.
you might also want to get a new o-ring for the filter. it is the following part number: Help! part# 90441. its available at most auto parts stores. this o-ring likes oil much better than the one that comes on the filter. i havent put that o-ring on yet but i will in the future.
if you take the bowl off of the filter and then unscrew the stone filter there is a little black plastic piece, ditch that. then put the stone filter back on. i have cleaned the stone filter a few times with carb cleaner. to clean it i just unscrew the filter and then spray the carb cleaner so that it goes from the inside out, kind of like how you clean a K&N air filter.
UPDATE
: The heater hose and fuel line are starting to be affected by the heat and vacuum. So I have ordered new hose from McMaster-Carr. The new hose is actual vacuum rated hose so it should hold up. I will post when I receive the new hose to confirm it fits right and such.
Part Numbers
54605K29 - $0.87/ft
5201K14 - $3.27/ft
You need to decide how many feet you need. I ordered 5ft of each to have a little left over. There is another hose that is $2.55/ft but has a much larger bend radius than the one above, but if you are interested the part number is: 5279K213.
UPDATE 8/27/07
I was looking through the latest JEG'S catalog and noticed an Air Oil Separator kit. It is very similar to the $20 catch can, but looks a little nicer. It is $45, so its a little pricey. But it does come with a mounting bracket and the hose barb fittings. It does look like it has a nice little drain.
For those who are interested the part number is 555-52205.
http://www.jegs.com/webapp/wcs/stores/s ... _396863_-1
Disclaimer: I don't take any responsibility for any problems or damage that could occur by performing this install. Install at own risk.